"First I want to say numberless thanks to all the FPMT family for your continual dedication and study, and for all your effort put into developing the centers by improving the conditions to receive teachers so that sentient beings can receive teachings, as well as all the FPMT projects and services that benefit sentient beings in so many different ways," FPMT spiritual director Lama Zopa Rinpoche wrote in the FPMT Annual Review 2013. "It's amazing, really fantastic. Thank you very, very much. Because of this, more and more good results have been happening and we have been able to bring greater benefit to others. This is something we can all see, enjoy and rejoice in. …"
You can read all of Rinpoche's inspirational letter to the FPMT family in the just published FPMT Annual Review 2013 "Please Rejoice with Us." 
Lama Zopa Rinpoche is the spiritual director of the Foundation for the Preservation of Mahayana Tradition (FPMT), an organization dedicated to preserving Mahayana Buddhism through offering the Buddha's authentic teachings and to facilitating reflection, meditation, practice and the opportunity to actualize and directly experience the Buddha's teachings. Sign up to receive news and updates.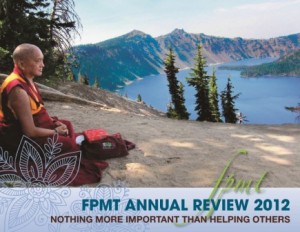 "I really am so happy about the benefits that we bring to others," Lama Zopa Rinpoche wrote in the opening to FPMT Annual Review 2012: Nothing More Important than Helping Others. Rinpoche continues by thanking the thousands of people who help FPMT and FPMT International Office: 
All this benefit is due to your kindness and prayers in the past and the present and because of that it will also be beneficial in the future. This is like a wish-fulfilling jewel removing the darkness of the world, benefiting those that need help. … From my heart, I thank all of you for what you have done in the past and present and for what you will do in the future. Please continue in the future, if possible even better, with your wisdom and compassion.
In addition to Rinpoche's introductory letter, the FPMT Annual Review 2012 also contains personal letters from Tenzin Ösel Hita (board member and recognized reincarnation of FPMT's founder, Lama Yeshe) and Ven. Roger Kunsang (president and CEO) to FPMT supporters and students. 
The recently published report, created by FPMT International Office, shares its accomplishments over the last year and features beautiful photos, inspiring quotes, and important information about the organization's financial and structural health. If you are curious about how International Office supports Lama Zopa Rinpoche's overall spiritual vision, please read over this review, available to read online or as a downloadable PDF.
With more than 160 centers, projects and services around the globe, there is always news on FPMT activities, teachers and events. Mandala hopes to share as many of these timely stories as possible. If you have news you would like to share, please let us know.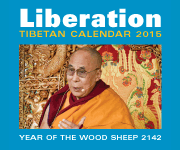 My religion is kindness to all
His Holiness the Dalai Lama
Contact Info
1632 SE 11th Avenue
Portland, OR 97214-4702 USA
Tel (503) 808-1588 | Fax (503) 232-0557
About FPMT
FPMT is an organization devoted to the transmission of the Mahayana Buddhist tradition and values worldwide through teaching, meditation and community service.
more...
About Buddhism
If you're new to Buddhism, please read our
Buddhism FAQ
. A place to learn about Buddhism in general, FPMT, and our Discovering Buddhism at Home series.