April / June 2009
A Teacher Tells Us Why
By Ven. Sangye Khadro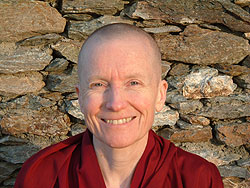 Reader Question:
Are Buddhist monks and nuns required to be celibate? Is this requirement related to our task as Buddhists to give up attachment? How can I, as a lay practitioner not practicing celibacy, work to give up attachment as well?
Yes, all Buddhist monks and nuns take a vow of celibacy, which means refraining from sexual activity with anyone. And yes, the main reason for being celibate is to decrease attachment/desire. It would be extremely difficult to overcome desire while being involved in sexual relationships; it's easier to do this work in a celibate lifestyle. However, to answer the third question, yes, there is plenty to do as a lay practitioner if giving up attachment is your goal.
A lot of Westerners have difficulty understanding what's wrong with attachment and why we need to get rid of it; some people even think we can't be happy without it. So I would like to try to explain why attachment is not only unnecessary and unhelpful, but an actual hindrance to real happiness.
According to Buddhism, all beings wish to be happy and to not suffer, and we all deserve to be happy and free of suffering. There is nothing wrong with wanting to be happy, but what most people don't realize is that there are different kinds of happiness, ranging from sensory pleasure up to the bliss of full enlightenment, the highest form of happiness possible. Most of the happiness we un-enlightened beings experience is sensory pleasure: seeing attractive objects, hearing beautiful sounds, feeling pleasant sensations in our body, and so on. Such experiences are enjoyable, but they have their limitations:
they are impermanent
they depend on external factors, which are also impermanent and not always available
while we experience them, our mind is usually not calm and stable, but is disturbed by grasping, confusion, anxiety or unrealistic expectations.
Sensory pleasure isn't the only kind of happiness that exists. There are other, better kinds of happiness – they last longer, are less dependent on external factors, and are experienced with greater calmness, clarity and stability. For example, there are various meditative states – the four concentrations and four formless absorptions – that are said to be much more blissful and satisfying than sensory pleasure. In order to attain these states we have to cultivate single-pointed concentration, and one of the biggest hindrances to concentration is attachment to sense pleasures. We can see this for ourselves – when our mind gets distracted during meditation, it usually runs to objects of attachment. Just as a bird can't fly as long as she clings to the branch she's sitting on, we can't attain higher states of meditative bliss as long as we cling to the five sense objects. So this is one reason we need to overcome attachment: in order to attain single-pointed concentration and experience the more sublime happiness it brings.
But Buddhists don't attain concentration just to experience bliss, because the bliss of mere concentration is still samsaric, and therefore transitory and not completely free from suffering and its causes. The real purpose of developing concentration is to attain still higher goals: liberation and enlightenment. These states are even more blissful than the ones attained through mere concentration, and are also more stable – in fact, they last forever because once attained, they are never lost. We all have the potential to attain these states, as long as we create the right causes and conditions, and one of these causes is freeing our mind from the disturbing emotions (delusions), including attachment. To eliminate delusions, we need not only concentration but also wisdom, especially the wisdom realizing emptiness. So here again, attachment is an obstacle to attaining the highest forms of happiness – liberation and enlightenment. We simply can't reach these without giving up attachment …
This article is an excerpt of the full article printed in Mandala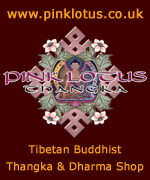 Approaching enlightenment is a gradual process, but once you attain it, there's no going back; when you reach the fully awakened state of mind, the moment you experience that, you remain enlightened forever.
Lama Zopa Rinpoche