FPMT News Around the World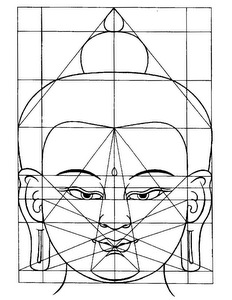 Have you ever wanted to improve your visualization practice? Instead of struggling to retrieve a fuzzy image, have you wished for Buddha's face to pop clearly into mind as soon as you closed your eyes? Jon Landaw, a long-time FPMT teacher, recently led his Discovering Buddhism students through an exercise of drawing Buddha's face to help them improve their visualizations. His students reported good results, saying they could bring Buddha's image to mind more easily.
Landaw explains that he supplied students with artist Andy Weber's gridded drawing of Buddha's face, blank copies of the grid and some pencils. Then put on a recording of Lama Yeshe chanting mani and let them get to work.
"A couple of the students contented themselves with merely tracing the Buddha's face, but the rest actually drew it 'free hand,' as it were," Landaw writes. "They were very happily occupied for more than an hour, at the end of which time I led a brief visualization practice. Then on the following week, when I ask them whether they noticed any change in their meditation practice and their ability to bring Buddha's image to their mind, I got an overwhelming positive response."
"Even though I didn't have the opportunity of joining the class while they were doing their work," Landaw writes, "the mere activity of looking closely at all their work left a strong impression on my mind. So when I led the closing meditation, Buddha's face appeared before my mind's eye much more vividly than it has in ages."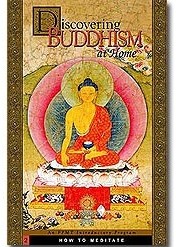 You can watch video of Andy Weber drawing Buddha's face online, where you can also download copies of the gridded face and the empty grid. If you're interested in the Discovering Buddhism course and it's not offered in your area, you can take it online at the FPMT Online Learning Center.
With 160 centers, projects, and services around the globe, there is always news on FPMT activities, teachers and events. Mandala hopes to share as many of these timely stories as possible. If you have news you would like to share, please let us know.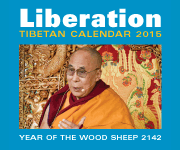 I encourage people not to express their anger, not to let it out. Instead, I have people try to understand why they get angry, what causes it and how it arises. When you realize these things, instead of manifesting externally, your anger digests itself. In the West, some people believe that you get rid of your anger by expressing it, that you finish it by letting it out. Actually, in this case what happens is that you leave an imprint in your mind to get angry again.
Lama Thubten Yeshe
Contact Info
1632 SE 11th Avenue
Portland, OR 97214-4702 USA
Tel (503) 808-1588 | Fax (503) 232-0557
About FPMT
FPMT is an organization devoted to the transmission of the Mahayana Buddhist tradition and values worldwide through teaching, meditation and community service.
more...
About Buddhism
If you're new to Buddhism, please read our
Buddhism FAQ
. A place to learn about Buddhism in general, FPMT, and our Discovering Buddhism at Home series.