Posts Tagged "education&quot
There are 3 results found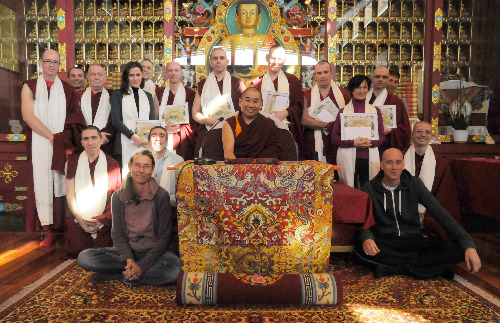 On February 15 Nalanda Monastery, France, officially completed its first five year residential Basic Program (BP) with a graduation ceremony. Geshe Jamphel, BP teacher and abbot, handed out BP completion certificates to the graduates (two of them were not there), and BP completion cards to students who did not yet graduate. The ceremony was an inspiration for the 36 brand new students of Nalanda's second Basic Program, who attended as part of their introduction day. A special presentation was made to Ven. Tharchin, the program's interpreter and Ven. Yonten, the program's coordinator, reflecting appreciation for their contributions that made this excellent BP, with its three month review and three month retreat, such a success! Geshe-la then gave a talk to the 36 new students and all Nalanda residents, emphasizing the work that the BP students had done over the five years. The ceremony was followed by a big celebratory lunch. Two of these graduates are now FPMT registered teachers!
FPMT Education is grateful for your support to any of the following funds.
The Education Fund helps support all the works of FPMT Education Services.
The FPMT Education Scholarship Fund provides the funding needed to create our comprehensive educational programs and helps financially support students in our programs around the world who are on track to become FPMT Dharma teachers, meditators, and practitioners.
The Translation Fund helps support translations for FPMT programs as well as translations requested by Lama Zopa Rinpoche.
FPMT is unbelievably fortunate that we have many qualified teachers who are not only scholars but are living in practice. If you look, then you can understand how fortunate we are having the opportunity to study. With our Dharma knowledge and practice we can give the light of Dharma to others, in their heart. I think that's the best service to sentient beings, the best service to the world.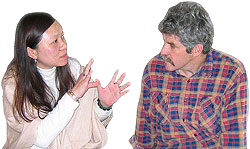 Education is the very heart of FPMT. Through comprehensive study programs, practice materials, training programs, and scholarships, FPMT Education nourishes the development of compassion, wisdom, kindness, and true happiness in individuals of all ages.
Whether you are a beginner or an advanced practitioner, if you are wondering about the next step to take on your spiritual journey, please refer to the FPMT Education Programs page.
FPMT Education News

Keep up on news and updates form FPMT Education Services.

Programs

FPMT offers a vast range of Buddhist study programs available in FPMT centers and as homestudy or online through the FPMT Online Learning Center. From introductory courses to the highest philosophical texts, FPMT provides everything needed to learn, practice, and fully realize the Buddha's teachings.

Prayers & Practice Materials

FPMT Education Services has made available a variety of prayers and practice materials available for purchase as hard copy materials and/or eBooks and downloads.

Mantras and Sutras

Death and Dying

Lama Zopa Rinpoche has given extensive advice and instruction for caring for others (and ourselves) at the time of death, or during the process of dying.

 

Teachings and Advice

FPMT provides a wealth of opportunities enabling one access to Buddhist teachings and advice. You are welcome to take advantage of these resources.

Holy Objects

Under Lama Zopa Rinpoche's advice and care, FPMT has made the creation of holy objects a central mission of the international organization. We have collected extensive information and resources for the creation, sponsorship, or veneration of holy objects.

Service Seminars

FPMT Service Seminars provide support and training to students offering service within FPMT centers and projects.

Translations

As the Dharma takes root in the West, clear translations of Buddhist texts, prayers, and teachings are crucial. FPMT works with translators around the world to translate Tibetan texts into English, Spanish, Chinese, French, German, and many other languages.

 

Offer Your Support

FPMT Education has established three distinct funds, enabling you to offer support to our critical work.

Youth

FPMT provides Dharma practice materials, support, children's classes and camps, and a whole secular organization just for youth and young adults!

Secular

Foundation for Developing Compassion and Wisdom

Buddhism Frequently Asked Questions

Frequently Asked Questions about Buddhism

Frequently Asked Questions from the Discovering Buddhism Program
To learn more about supporting FPMT Education, follow the links above to the Translation and Scholarship Funds, or see the Practice Generosity section of the Foundation Store.
FPMT Education Services works closely with the Lama Yeshe Wisdom Archive, the official archive of the teachings of Lama Thubten Yeshe and Lama Zopa Rinpoche.
Without understanding how your inner nature evolves, how can you possibly discover eternal happiness? Where is eternal happiness? It's not in the sky or in the jungle; you won't find it in the air or under the ground. Everlasting happiness is within you, within your psyche, your consciousness, your mind. That's why it's important that you investigate the nature of your own mind.
 
Contact Info
1632 SE 11th Avenue
Portland, OR 97214-4702 USA
Tel (503) 808-1588 | Fax (503) 232-0557
About FPMT
FPMT is an organization devoted to the transmission of the Mahayana Buddhist tradition and values worldwide through teaching, meditation and community service.
more...
About Buddhism
If you're new to Buddhism, please read our
Buddhism FAQ
. A place to learn about Buddhism in general, FPMT, and our Discovering Buddhism at Home series.