Posts Tagged "fpmt education services&quot
There are 3 results found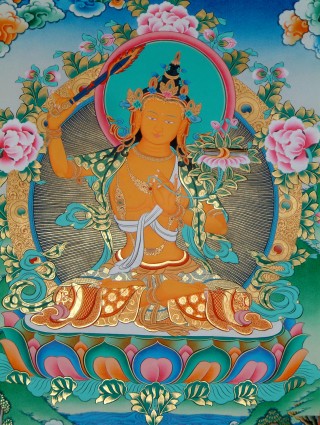 Manjushri is the buddha of wisdom and wields a flaming sword that cuts through our confusion, doubts and internal obstacles.
FPMT Education Services is happy to release this revised and reformatted version of "A Meditation on Orange Manjushri." This practice includes the short sadhana written by the 5th Dalai Lama as well as, "Practice to Receive the Seven Types of Wisdom." Excellent for developing wisdom and clarity, improving one's memory, and for understanding and explaining Dharma to others.
Available through the FPMT Foundation Store in eBook, a4, and booklet letter formats.
Tara, The Liberator, is a completely enlightened buddha who had previously promised to appear, after enlightenment, in the form of a female bodhisattva for the benefit of all beings. Her primary activity is to protect from the eight fears. Tara or simply Drol-ma in Tibetan, is one of the most widely venerated deities in Tibet. Tara represents the miraculous activities of all buddhas. In myth she is born from Chenrezig's tears of compassion. There are innumerable manifestations of Tara arising according to the needs of others, such as the dynamic Green Tara who quickly overcomes obstacles and saves beings in dangerous situations.
FPMT Education Services is pleased to announce a revised Short Practice of Green Tara.  This practice includes the short sadhana, commentary from Lama Zopa Rinpoche, and three versions of Praises to the Twenty-One Taras. A Kriya Tantra empowerment of Green Tara is needed to practice this sadhana in full. However, one can do this practice without such an empowerment as long as one does not generate oneself as the deity. If one does not have the empowerment, one can do the self-generation practice at the crown of one's head.
Compiled from various teachings by Lama Zopa Rinpoche, Benefits of Medicine Buddha Mantra and Practice details the many blessings associated with engaging in Medicine Buddha practice.
FPMT Education Services is happy to freely offer this compilation.
The Medicine Buddha encompasses all the buddhas. This means that when we practice the seven-limb prayer and make offerings with the seven limbs, we receive the same merit as we would if we had made offerings to all the buddhas. Similarly, when we recite the mantra of Medicine Buddha, we collect unbelievable merit just as when we offer the seven-limb practice to Medicine Buddha.
Contact Info
1632 SE 11th Avenue
Portland, OR 97214-4702 USA
Tel (503) 808-1588 | Fax (503) 232-0557
About FPMT
FPMT is an organization devoted to the transmission of the Mahayana Buddhist tradition and values worldwide through teaching, meditation and community service.
more...
About Buddhism
If you're new to Buddhism, please read our
Buddhism FAQ
. A place to learn about Buddhism in general, FPMT, and our Discovering Buddhism at Home series.