Posts Tagged "fpmt puja fund&quot
There are 3 results found
Every month on the Tibetan 29th day, an important day to offer protector pujas, The Puja Fund sponsors about 40 of the most senior monks of Sera Je Monastery, who specialize in the practice of Most Secret Hayagriva, to offer the Extensive Most Secret Hayagriva puja (Hayagriva Tsog Kong). This is an all day puja with an elaborate torma offering (pictured above) and extensive prayers and meditation. 150 rs is offered to each monk offering this puja.
The Extensive Most Secret Hayagriva puja is dedicated to all FPMT centers, services, projects; the success of all Dharma activities and removal of obstacles; to all students who are facing obstacles; to the benefactors of the Puja Fund and to all beings.
The Puja Fund makes a small offering to the 40 monks who perform the puja; offers breakfast, lunch and dinner; and covers the cost of extensive torma offerings for the puja.
Every Tibetan 29th day (This month it is: December 31, 2013), you can remember that there are over 40 monks performing the Extensive Most Secret Hayagriva puja. This is something amazing to rejoice in, to mentally offer and dedicate towards and also something you can participate in by donating any amount … How amazing!
You may donate toward this monthly puja and the entire array of ongoing offerings sponsored by The Puja Fund: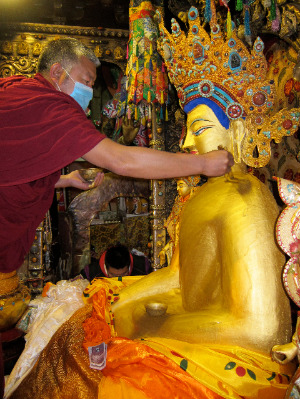 Every month on the full moon the Puja Fund sponsors the offering of gold and robes to the holy Jowa Buddha Statue in Tibet. This month, the full moon falls on November 17. 
Lama Zopa Rinpoche recently explained some of the benefits of offering gold to holy objects:
If someone offers a small flower or rice to a Buddha statue, a stupa or scripture then the benefit extends from then up to Enlightenment. Amazing, amazing. It is said in the sutra Piled Flowers, on top of that benefit, you achieve ultimate happiness – liberation from the causes of delusion and karma and on top of that full Enlightenment – all the realizations and omniscient mind. After this, then you liberate numberless hell beings, pretas, animals, humans, suras and asuras from the ocean of samsaric sufferings and bring them to full Enlightenment. When all beings are brought to
Enlightenment, only then are all the results of offering achieved. So by offering gold, then wow, wow, wow.
Scribe Ven. Tenzin Namdrol. Kopan, December 2012.
You can contribute to this unbelievably precious offering, any amount you are able:
The Puja Fund recently offered US$2,843.49 for six months of  monthly Medicine Buddha pujas performed by the monks of Sera Mey Monastery, South India.
This monthly puja is offered on the Tibetan 8th day of every month. 2,000 monks attend and are offered tea, bread and a small money offering for their participation.  The cost of light offerings and torma offerings for the puja is also offered. This month, the puja will be performed on November 10th.
Extensive dedication prayers are made for the success of the entire FPMT organization; FPMT centers, projects, services; all students who are ill or having life obstacles; benefactors of The Puja Fund and to all beings.
 Please rejoice in this monthly puja which helps support the monks of Sera Mey Monastery and has immense benefit for the entire FPMT organization.
You can donate any amount to these ongoing efforts.
Statements of Appreciation
I would like to thank all the people working in Rinpoche's organization. You all are working very hard until now. I would like to request you to continue. Rinpoche works with such determination and great sincerity in the service of Buddha's teachings and sentient beings.
– His Holiness the Dalai Lama
Contact Info
1632 SE 11th Avenue
Portland, OR 97214-4702 USA
Tel (503) 808-1588 | Fax (503) 232-0557
About FPMT
FPMT is an organization devoted to the transmission of the Mahayana Buddhist tradition and values worldwide through teaching, meditation and community service.
more...
About Buddhism
If you're new to Buddhism, please read our
Buddhism FAQ
. A place to learn about Buddhism in general, FPMT, and our Discovering Buddhism at Home series.