Student Bob Brintz lives with ALS (Lou Gehrig's disease) and is almost completely paralyzed. Through his writings on the website patientslikeme.com, borrowing heavily from Buddhist teachings, he tries to encourage other ALS patients (PALS) that they too can transform their way of thinking to one that allows joyful living with ALS. Bob was featured in the Mandala July-September 2013 print edition in his article "I Will Be Paralyzed and Happy."
In a recent response to a 2006 post on the PatientsLikeMe ALS forum, member David, who was diagnosed with bulbar onset motor neuron disease in June 2012, asks, in regard to patients opting not to engage in a battery of life-extending interventions, "How do we want to spend our remaining years and months? If we choose not to fight, are we giving up? Do we love life less?" He ended his post with a quote from Friedrich Nietzsche, the 19th-century German philosopher: "Hope, in reality, is the worst of all evils because it prolongs the torments of man."
Bob responds in "A Path to Survival III: On Hope":
" … I feel compelled to reply to David because I believe that his thoughts are shared by many other PALS and they strike me as being in some respects illogical. In saying this, I don't intend to be judgmental or critical of anyone. My only objective is to help other PALS find their path to survival, if they so choose, as I have found mine.
"… Nietzsche's was certainly not a philosophy of hopelessness and despair. Although he saw the suffering nature of human existence, he also recognized the great potential of man to overcome every suffering. 
"I believe Nietzsche would have seen hope as I define it: as a potent antidote to suffering. From my perspective, hope is a constant mindset or attitude that embraces the positive potential of this very moment. (Hopelessness, in contrast, embraces the negative potential of the present moment.) The essence of hope is to find purpose and meaning in our continued existence. Determined effort (action) to fulfill our meaning and purpose produces that condition we call happiness, well-being, inner peace, joie de vivre. This condition overcomes all suffering.
"Importantly, hope is neither false nor unrealistic. Hope recognizes the glass is half empty, but drinks with gusto from the half that is full. Hope sees the dark cloud overhead, but searches for and finds the silver lining.
" … What positive potential, what meaning and purpose, you might ask, could I possibly have foreseen in a future paralyzed and on a vent with ALS? I saw that the vent offered me many opportunities that the alternative didn't, such as: to continue to be my wife's husband, my children's father, my mother's son, a brother, an uncle, a friend; to continue to learn, to grow, to inspire others as others have so inspired me; to love and to be loved; to feel and to care; to laugh and to cry; to continue to contribute to the betterment of the World; to experience the richness and wonder of being alive … so very alive."
Bob has posted his writings on the website patientslikeme.com, including "A Path to Survival," "A Path to Survival II: The Roadmap" and "The Darkness."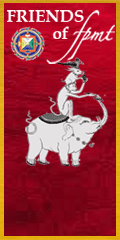 We are not compelled to meditate by some outside agent, by other people, or by God. Rather, just as we are responsible for our own suffering, so are we solely responsible for our own cure. We have created the situation in which we find ourselves, and it is up to us to create the circumstances for our release. Therefore, as suffering permeates our life, we have to do something in addition to our regular daily routine. This "something" is spiritual practice or, in other words, meditation.
The Purpose of Meditation
Lama Yeshe Wisdom Archive
Lama Zopa Rinpoche
Contact Info
1632 SE 11th Avenue
Portland, OR 97214-4702 USA
Tel (503) 808-1588 | Fax (503) 232-0557
About FPMT
FPMT is an organization devoted to the transmission of the Mahayana Buddhist tradition and values worldwide through teaching, meditation and community service.
more...
About Buddhism
If you're new to Buddhism, please read our
Buddhism FAQ
. A place to learn about Buddhism in general, FPMT, and our Discovering Buddhism at Home series.