Posts Tagged "health&quot
There are 3 results found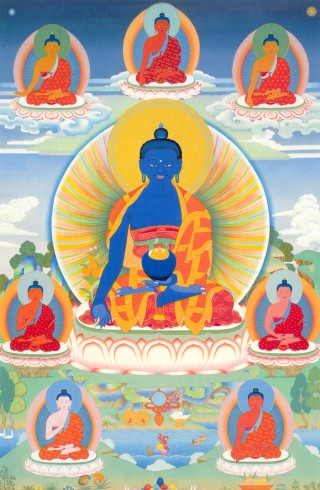 Sickness and poor health are experiences shared by all regardless of race, ethnicity, gender, age or any other markers of identity that can separate one from another.
When it comes to advice for combating sickness and poor health, Lama Zopa Rinpoche always recommends Medicine Buddha practice, and advises using "sickness for the path."
FPMT Education has compiled some resources for students around the world who either suffer from physical or mental obstacles to their health or want to help others facing these challenges.
More Medicine Buddha resources can be found on the FPMT Foundation Store. 
THANKS TO ALL who participated in the practices requested to be done for Lama Zopa Rinpoche's health and long life back in April this year.  On Dec 9th, an amazing total of practices will be offered to Rinpoche as part of the offerings to Rinpoche during the official long life puja.
Please rejoice!
Rinpoche offered thanks to those offering practices back in August.
FPMT News Around the World
On April 30 and May 1, Longku Center in Bern, Switzerland, performed some of the special practices recommended by Rangjung Neljorma Khadro Namsel Drolma (Khadro-la) and other high lamas to support Lama Zopa Rinpoche's health and long life. The center arranged the practices in accordance with FPMT CEO Ven. Roger's April 24 request.
Spiritual program coordinator Regula Burri shared that students at the center "liberated 350 worms, recited the Golden Light Sutra nine times and recited the prayer of the Twenty-One Taras 108 times."
For the animal liberation, students filled up pots with soil to make a comfy home for hundreds of worms. In the center's gompa, trays were circumambulated around a table heaped with holy objects, mantras and texts collected by center members while students did practices for the worms.
Students and supporters of Rinpoche are encouraged to complete as many of the recommended practices as possible and report at the end of each month what has been done to director of Center Services Claire Isitt at International Office. These combined efforts will be offered to Rinpoche directly.
If you like what you read on Mandala, consider becoming a Friend of FPMT, which supports our work. Friends of FPMT at the Basic level and higher receive the print magazine Mandala, delivered quarterly to their homes.
Contact Info
1632 SE 11th Avenue
Portland, OR 97214-4702 USA
Tel (503) 808-1588 | Fax (503) 232-0557
About FPMT
FPMT is an organization devoted to the transmission of the Mahayana Buddhist tradition and values worldwide through teaching, meditation and community service.
more...
About Buddhism
If you're new to Buddhism, please read our
Buddhism FAQ
. A place to learn about Buddhism in general, FPMT, and our Discovering Buddhism at Home series.