Tushita Meditation Centre is a bustling FPMT center in Dharamsala – the seat-in-exile of His Holiness the 14th Dalai Lama. Tushita staff wrote Mandala, sharing news about a recent visit from Jhado Rinpoche, a highly-respected touring lama:
We were extremely fortunate in being able to spend the weekend in the esteemed company of Jhado Rinpoche. And as if this wasn't enough, we heard his words in English via the translation skills of the incredible Geshe Kelsang Wangmo!
Jhado Rinpoche taught three sessions over May 10-11, 2014, giving commentary on Six-Session Guru Yoga. With the skill of a true master teacher, Jhado Rinpoche moved progressively deeper into the explanation of the practice session-by-session, and provided opportunity for the gathered attendees to ask questions.
Jhado Rinpoche has also been advising our gompa painters on the mandalas on canvas they are currently working on for the ceiling space above our Lama Tsongkhapa statue. He has visited Tushita a couple of times in the past months for this purpose and also took time on both these teaching days to check on their progress.

Audio of the Six-Session Guru Yoga teaching is available on Tushita's website. Tushita's staff apologizes for "less-than-ideal" audio quality in the third session. More photos from the event can be seen on their Facebook page.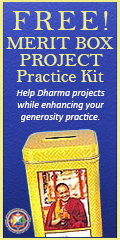 I encourage people not to express their anger, not to let it out. Instead, I have people try to understand why they get angry, what causes it and how it arises. When you realize these things, instead of manifesting externally, your anger digests itself. In the West, some people believe that you get rid of your anger by expressing it, that you finish it by letting it out. Actually, in this case what happens is that you leave an imprint in your mind to get angry again.
Lama Thubten Yeshe
Contact Info
1632 SE 11th Avenue
Portland, OR 97214-4702 USA
Tel (503) 808-1588 | Fax (503) 232-0557
About FPMT
FPMT is an organization devoted to the transmission of the Mahayana Buddhist tradition and values worldwide through teaching, meditation and community service.
more...
About Buddhism
If you're new to Buddhism, please read our
Buddhism FAQ
. A place to learn about Buddhism in general, FPMT, and our Discovering Buddhism at Home series.