Posts Tagged "jowa buddha&quot
There are 1 results found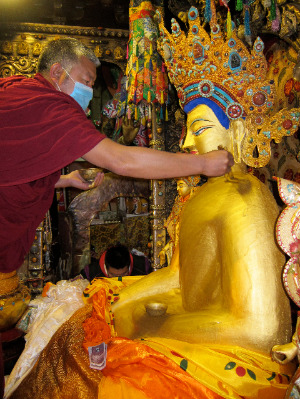 Every month on the full moon the Puja Fund sponsors the offering of gold and robes to the holy Jowa Buddha Statue in Tibet. This month, the full moon falls on November 17. 
Lama Zopa Rinpoche recently explained some of the benefits of offering gold to holy objects:
If someone offers a small flower or rice to a Buddha statue, a stupa or scripture then the benefit extends from then up to Enlightenment. Amazing, amazing. It is said in the sutra Piled Flowers, on top of that benefit, you achieve ultimate happiness – liberation from the causes of delusion and karma and on top of that full Enlightenment – all the realizations and omniscient mind. After this, then you liberate numberless hell beings, pretas, animals, humans, suras and asuras from the ocean of samsaric sufferings and bring them to full Enlightenment. When all beings are brought to
Enlightenment, only then are all the results of offering achieved. So by offering gold, then wow, wow, wow.
Scribe Ven. Tenzin Namdrol. Kopan, December 2012.
You can contribute to this unbelievably precious offering, any amount you are able:
Statements of Appreciation
A few days ago I completed a year of retreats…at two FPMT centres (though I have visited and am very familiar with several others).  The staff of the two centres could not have been kinder and more supportive.  It is especially through appreciating their cultures of care and support for retreatants that I have renewed my admiration for the FPMT, and thereby for your [Lama Zopa Rinpoche's] extraordinary holy activity for sentient beings…
– Andy Wistreich, August 2008
Contact Info
1632 SE 11th Avenue
Portland, OR 97214-4702 USA
Tel (503) 808-1588 | Fax (503) 232-0557
About FPMT
FPMT is an organization devoted to the transmission of the Mahayana Buddhist tradition and values worldwide through teaching, meditation and community service.
more...
About Buddhism
If you're new to Buddhism, please read our
Buddhism FAQ
. A place to learn about Buddhism in general, FPMT, and our Discovering Buddhism at Home series.