Posts Tagged "lam-rim&quot
There are 2 results found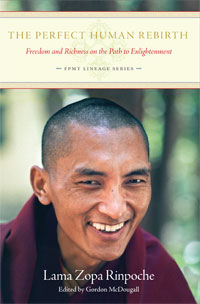 Lama Zopa Rinpoche's The Perfect Human Rebirth: Freedom and Richness on the Path to Enlightenment, edit by Gordon McDougall, is the third book in the FPMT Lineage Series published by the Lama Yeshe Wisdom Archive.
The FPMT Lineage series is comprised of books of Lama Zopa Rinpoche's teachings on the graduated path to enlightenment (lam-rim) drawn from his four decades of discourses on the topic based on his own textbook, The Wish-fulfilling Golden Sun, and several traditional lam-rim texts. The books in general are arranged according to the outline of Pabongka Rinpoche's Liberation in the Palm of Your Hand.
The first in this series is Heart of the Path and the second is How to Practice Dharma: Teachings on the Eight Worldly Dharmas. The Lama Yeshe Wisdom Archive is now actively working on the next book in the series, Rinpoche's teachings on impermanence and death.
Lama Zopa Rinpoche has been commenting very specifically this year about the need for FPMT students to actualize the lam-rim teachings and achieve realizations. Rinpoche's main wishes are to organize a special group of lam-rim retreatants and to encourage others to follow a year-long lam-rim meditation schedule:
 "Now what is needed are people who will sacrifice their lives, as they did in India, Tibet and Nepal, not just to study the Dharma like at a college or university, but to actualize the teachings in a monastery or isolated place. In Tibet, the mountains were full of caves like ants' nests, where people would go to practice without distraction This is how Buddhism really comes alive – when it is not just words, not just scholars, but really living Buddhism. When study and realization come together, Buddhism will really last. Wow, then like an ocean in the heart and the mind, it will spread and be preserved. Otherwise, if it is just like learning in a college, it won't last long. That's like throwing tsampa on water: It stays on top and doesn't sink – it is shallow. For Buddhism to really be preserved in the West as it was in Tibet and India, we need people who will sacrifice their lives to completely actualize in the heart what was explained by the Buddha We need to realize all of this in our hearts in the West."
Statements of Appreciation
I just got the Prayer Book Volume 1 2008 edition, and I can't begin to thank you and all involved for how beautiful and beautifully compiled it is!! What a blessing and asset this will be to my practice!!! Another reminder of why I am so grateful for and think the FPMT should be the fourth jewel I could take refuge in!!!
– Stephen
Contact Info
1632 SE 11th Avenue
Portland, OR 97214-4702 USA
Tel (503) 808-1588 | Fax (503) 232-0557
About FPMT
FPMT is an organization devoted to the transmission of the Mahayana Buddhist tradition and values worldwide through teaching, meditation and community service.
more...
About Buddhism
If you're new to Buddhism, please read our
Buddhism FAQ
. A place to learn about Buddhism in general, FPMT, and our Discovering Buddhism at Home series.