Tong-nyi Nying-je Ling in Copenhagen, Denmark, shared their new logo with Mandala. The logo was drawn by Sonam Sherpa.
The Danish center wrote, "maybe other centers who see it will become reenergized about their own processes of developing logos according to Lama Zopa Rinpoche's wishes."
Advice from Rinpoche on logo design is available for directors of FPMT centers, projects and services in the "Center Members Area" of fpmt.org.
Mandala brings you news of Lama Zopa Rinpoche and of over 160 FPMT centers, projects and services around the globe. If you like what you read on Mandala, consider becoming a Friend of FPMT, which supports our work.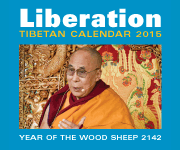 Tibetan Buddhism teaches you to overcome your dissatisfied mind, but to do that you have to make an effort. To put our techniques into your own experience, you have to go slowly, gradually. You can't just jump right in the deep end. It takes time and we expect you to have trouble at first. But if you take it easy it gets less and less difficult as time goes by.
Lama Zopa Rinpoche
Contact Info
1632 SE 11th Avenue
Portland, OR 97214-4702 USA
Tel (503) 808-1588 | Fax (503) 232-0557
About FPMT
FPMT is an organization devoted to the transmission of the Mahayana Buddhist tradition and values worldwide through teaching, meditation and community service.
more...
About Buddhism
If you're new to Buddhism, please read our
Buddhism FAQ
. A place to learn about Buddhism in general, FPMT, and our Discovering Buddhism at Home series.