Spiritual program coordinator Ven. Losang Tendar wrote to Mandala describing the recent construction completed as part of Nalanda Monastery's 15-year master plan.
Lama Zopa Rinpoche has expressed the importance of continually developing Nalanda Monastery's facilities and study programs in order to create a major seat of monastic learning in the West. To achieve this, a master plan has been drawn up to skillfully develop Nalanda's land and cater for its growth.
The Monks' Building
During the first half of 2012, we finished some new infrastructure and landscaping at Nalanda. In September 2012, we started with the foundation of the new monks' building, including the floor insulation, pipe work and drainage system. The monks' building will have 18 rooms, including four double rooms and one room for physically disabled people. The building is influenced by the layout of the large monastic universities in India and features an external walkway.
Environmental Responsibility
Environmental responsibility is an essential part of the Buddhist path. As a result, Nalanda's master plan aims at creating as much self-sufficiency as possible regarding electricity, water management and heating, as well as having a minimal impact on the environment.
The Second and Third Phases
The second phase – the erection of the walls and roof – will be finished by February 2015 due the generosity of one of Nalanda's students.
The third phase of the building, which we'll begin in 2015, still needs financial support. The third phase will allow the building to become habitable. Potential sponsors will be able to choose what they would like to contribute towards (e.g., furniture, showers, doors, walls, painting) and how much they would like to give. We estimate a need of €400,000 [US$499,160].
Nalanda Monastery makes its 15-year master plan available upon request (info@nalanda-monastery.eu) and online. The master plan details the different phases of the project and options available to sponsors and donors.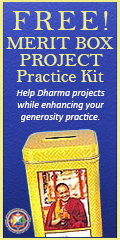 The whole thing, so many practices, all come down to live the daily life with bodhicitta motivation to put all the effort in that whatever you do. This way your life doesn't get wasted and it becomes full of joy and happiness, with no regrets later, especially when you die and you can die with a smile outside and a smile in the heart.
Lama Zopa Rinpoche
Contact Info
1632 SE 11th Avenue
Portland, OR 97214-4702 USA
Tel (503) 808-1588 | Fax (503) 232-0557
About FPMT
FPMT is an organization devoted to the transmission of the Mahayana Buddhist tradition and values worldwide through teaching, meditation and community service.
more...
About Buddhism
If you're new to Buddhism, please read our
Buddhism FAQ
. A place to learn about Buddhism in general, FPMT, and our Discovering Buddhism at Home series.