Posts Tagged "new issue&quot
There are 3 results found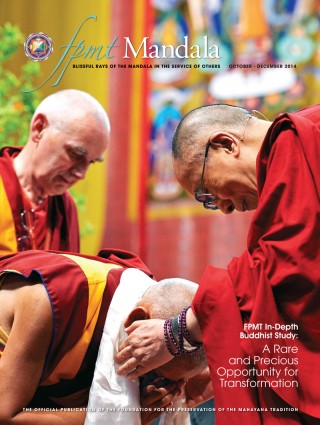 The new issue of Mandala magazine, October-December 2014, is in the mail and the supplemental online content is published!
In this print issue, graduates of FPMT's in-depth Buddhist studies programs talk about transformation and the power of in-depth study. We also share new, unpublished teachings from Lama Yeshe and Lama Zopa Rinpoche, plus a report on His Holiness the Dalai Lama's visit to Istituto Lama Tzong Khapa in Italy.
If you'd like to receive Mandala directly, consider supporting Friends of FPMT, which gives you complete access to Mandala as quickly as possible as well as access to the FPMT Online Learning Center.
Be sure to peruse this issue's online edition, which includes:
Mandala brings you news of Lama Zopa Rinpoche and FPMT activities, teachers and events from over 160 FPMT centers, projects and services around the globe. If you have news you would like to share, please let us know.
Lama Zopa Rinpoche continues teaching at Light of the Path in North Carolina, US. Rinpoche's teachings at the two-week retreat are being webcast live in English and Spanish. Due to technical issues, the webcast in French will be on a delayed stream. 
Rinpoche is scheduled to teach twice each day of the retreat, which began on May 4 and runs through May 18. The scheduled teachings times are 4:00 p.m. and 7:30 p.m. EDT (1:00 p.m. and 4:30 p.m. PDT; 8:00 p.m. and 11:30 p.m. UTC; 1:30 a.m. and 5:00 a.m. IST; 6:00 a.m. and 9:30 a.m. AEST). Video recordings of the teachings will be made available as quickly as possible in English, Spanish and French.
The Light of the Path Retreat 2014, hosted by Kadampa Center in North Carolina, US, is the third of a five-year series of teaching retreats led by Lama Zopa Rinpoche based on Lama Atisha's text, Lamp for the Path to Enlightenment. The first two retreats took place in 2009 and 2010 and many resources and materials have been developed from these precious teachings:
For all the latest details on webcasts, visit the Light of the Path webcast page. 
More information, photos, schedule and updates about FPMT spiritual director Lama Zopa Rinpoche can be found on Rinpoche's homepage. If you'd like to receive news of Lama Zopa Rinpoche via email, sign up to Lama Zopa Rinpoche News.
The new print issue of Mandala is in the mail and our new online edition is live!
Here are some highlights from this issue's online content:
To receive the print edition of Mandala, featuring coverage of Lama Zopa Rinpoche's Asia Tour and His Holiness' visit to Maitripa College and FPMT International Office, become a Friend of FPMT by the end of June. We'll send you the new issue right away as well as a link to an electronic version.
To keep up with all of the new stories from Mandala, including our "FPMT News Around the World" blog and Ven. Roger Kunsang's "Life on the Road with Lama Zopa Rinpoche," subscribe to our RSS feed, which will send new posts directly to your email inbox.
When I talk of being detached, what I mean is to be simpler, more easy-going. Detachment doesn't mean totally renouncing everything. It means that you loosen your grip and be more relaxed.
Lama Thubten Yeshe
Contact Info
1632 SE 11th Avenue
Portland, OR 97214-4702 USA
Tel (503) 808-1588 | Fax (503) 232-0557
About FPMT
FPMT is an organization devoted to the transmission of the Mahayana Buddhist tradition and values worldwide through teaching, meditation and community service.
more...
About Buddhism
If you're new to Buddhism, please read our
Buddhism FAQ
. A place to learn about Buddhism in general, FPMT, and our Discovering Buddhism at Home series.