When Lama Zopa Rinpoche stays at Kachoe Dechen Ling, his home in Aptos, California, Rinpoche regularly goes to the ocean to do prayers and practices to benefit the ocean and all sentient beings living in it. Rinpoche and Sangha take a specially made board with the Namgyälma mantra on it and submerge it in the water so its blessings are spread throughout the ocean. Often the mantra board is lowered on ropes into the water from a pier. It has also been pulled along by a boat.
Most recently, however, Sangha took two mantra boards directly into the frigid cold waters of the Pacific Ocean while Rinpoche said prayers and mantras on the beach. One of the mantra boards taken out is new and very large. 
During the recent long life puja for Rinpoche at Land of Medicine Buddha, Rinpoche was offered a 5-by-7-foot (1.5-by-2.1-meter) Namgyälma mantra board. The board was designed by Peter Griffin, a sculptor in the UK, and made from resin and fiberglass cast from a mold. Pam Cayton organized the creation of the large mantra board.
The older and smaller mantra board, also designed by Peter Griffin, measures 3-by-4-foot (0.9-by-1.2-meter) and is quite heavy. 
"The Namgyälma mantra is extremely powerful," Lama Zopa Rinpoche teaches. "[It] is the main mantra to purify and liberate beings from the lower realms, purify negative karma, and help those who are dying or have died by chanting it in their ear or placing it on their body."
Rinpoche's advice continues:
"For instance, if this mantra is placed on a mountain, the entire mountain becomes blessed and any people, animals or insects who touch or climb the mountain are purified of negative karma and liberated from the lower realms. If you hang this mantra as a banner, then even the shadow from the banner purifies the negative karma of anyone who comes in contact with it. Similarly, if this mantra is hung in your home, everyone in the house, not only people, but all of the animals and insects, will be purified of their negative karma and liberated from the lower realms. And it is excellent to have this mantra on your car, on the inside roof, on the passenger side visor, or on the outside of the car. This way, every time someone enters your car they are blessed by the power of this mantra. Also, any animal that touches the car, is killed in an accident, or is run over by the car, including extremely tiny insects that you can't see, they are completely purified."
The FPMT Foundation Store offers many protection items with the Namgyälma mantra including cards, decals and amulets.
"By having this mantra on the car, or house window, then even the shadow will bless sentient beings. The dust, wind, water and rain that touches it with the Namgyälma mantra becomes blessed so that any person or animal or insect who comes in contact with the dust, wind, water or rain becomes purified," Rinpoche said.
"I suggest that you give copies of this mantra sticker to other people in your community and explain the benefits of it. We need to print more Namgyälma stickers, many different sizes for others to use in the car, home, motorbike, bicycle, etc."
You can read more about "The Benefits of Namgyälma Mantra" in an article from Mandala August-September 2008. 
Lama Zopa Rinpoche is the spiritual director of the Foundation for the Preservation of Mahayana Tradition (FPMT), an organization dedicated to preserving Mahayana Buddhism through offering the Buddha's authentic teachings and to facilitating reflection, meditation, practice and the opportunity to actualize and directly experience the Buddha's teachings. Sign up to receive news and updates.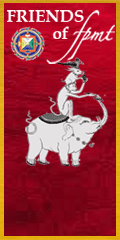 No desire means no emotional pain of attachment, anger and jealousy. There is peace, openness and space for genuine love and compassion to arise.
Lama Zopa Rinpoche
Contact Info
1632 SE 11th Avenue
Portland, OR 97214-4702 USA
Tel (503) 808-1588 | Fax (503) 232-0557
About FPMT
FPMT is an organization devoted to the transmission of the Mahayana Buddhist tradition and values worldwide through teaching, meditation and community service.
more...
About Buddhism
If you're new to Buddhism, please read our
Buddhism FAQ
. A place to learn about Buddhism in general, FPMT, and our Discovering Buddhism at Home series.