The Heart Sutra, a teaching on the nature of emptiness set at Vulture's Peak, is the most widely known sutra of the Mahayana tradition of Tibetan Buddhism. It is part of the Prajñaparamita Sutras, which is a collection of about 40 sutras composed between 100 BCE and 500 CE. FPMT Education Services offers an electronic version of the Heart Sutra for download as well as a Spanish version and other resources on their "Heart Sutra" page.
Lama Zopa Rinpoche is the spiritual director of the Foundation for the Preservation of Mahayana Tradition (FPMT), an organization dedicated to preserving Mahayana Buddhism through offering the Buddha's authentic teachings and to facilitating reflection, meditation, practice and the opportunity to actualize and directly experience the Buddha's teachings. Sign up to receive news and updates.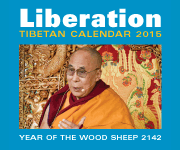 We are not compelled to meditate by some outside agent, by other people, or by God. Rather, just as we are responsible for our own suffering, so are we solely responsible for our own cure. We have created the situation in which we find ourselves, and it is up to us to create the circumstances for our release. Therefore, as suffering permeates our life, we have to do something in addition to our regular daily routine. This "something" is spiritual practice or, in other words, meditation.
The Purpose of Meditation
Lama Yeshe Wisdom Archive
Lama Zopa Rinpoche
Contact Info
1632 SE 11th Avenue
Portland, OR 97214-4702 USA
Tel (503) 808-1588 | Fax (503) 232-0557
About FPMT
FPMT is an organization devoted to the transmission of the Mahayana Buddhist tradition and values worldwide through teaching, meditation and community service.
more...
About Buddhism
If you're new to Buddhism, please read our
Buddhism FAQ
. A place to learn about Buddhism in general, FPMT, and our Discovering Buddhism at Home series.