Posts Tagged "rejoice&quot
There are 4 results found
REJOICE!
January-March 2013
Every year, practitioners quietly complete retreats and commitments and engage in acts of great devotion. Mandala would like to recognize the amazing practice activities of FPMT students and REJOICE!
By François Lecointre
Following up on the success of last year's round of 108 nyung näs at Institut Vajra Yogini (IVY), the French center has begun a second round. Six people intend to do the full 108 nyung näs that started at IVY on November 18, 2012. Rinpoche's offer to sponsor up to 10 people willing to do 100 nyung näs has made it possible for them to commit for the whole seven months of intense practice. 
The nyung näs are open to anyone who wishes to join. Some people come for eight nyung näs, some for one, some for just one session. Last year for the first round of 108 nyung näs, more than 100 people joined at one point or another, totalling about 1,000 nyung näs at the end of the seven months.  
This year, we hope to accumulate at least 2,000 nyung näs. It is great to have such an opportunity to rejoice! Wherever you are in the world, any day and anytime until the end of June 2013, you can visualize the retreatants at Institut Vajra Yogini, generating bodhichitta, prostrating, fasting, accumulating mantras, praying for peace, and you can rejoice in that intense purification and accumulation of merit.  
To learn more or offer to sponsor a retreatant, contact Institut Vajra Yogini.
The Lama Zopa Rinpoche Bodhichitta Fund is sponsoring 10 people to do 108 nyung näs at Institut Vajra Yogini, France, from November 18, 2012 to June 20, 2013. This sponsorship is the commencement of one of Rinpoche's Vast Visions for FPMT.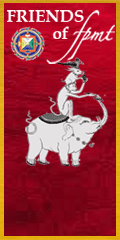 Whatever problem one experiences if one thinks about the benefits of problems and how they are beneficial for ones own life, to develop ones mind in compassion, to develop loving kindness, patience, wisdom, and all the positive qualities for the path to liberation. By thinking of the benefits one develops this precious quality, this most healthy positive way of thinking that brings happiness and that stops you from harming yourself and stops you from harming others.
Lama Zopa Rinpoche
Contact Info
1632 SE 11th Avenue
Portland, OR 97214-4702 USA
Tel (503) 808-1588 | Fax (503) 232-0557
About FPMT
FPMT is an organization devoted to the transmission of the Mahayana Buddhist tradition and values worldwide through teaching, meditation and community service.
more...
About Buddhism
If you're new to Buddhism, please read our
Buddhism FAQ
. A place to learn about Buddhism in general, FPMT, and our Discovering Buddhism at Home series.