By Ven. Chönyi Taylor
 … I'd been craving on and off, since I was fifteen, for Death to come and take me the way the wind does a dry leaf out on its limb.1
Suicide is a great tragedy and behind each one is unbearable pain. Tong-len2 practice is about breathing in this pain, and to do that effectively, we need to be fully open to the experience of that pain. On my daily walk to the beach, I tried to imagine how it would appear to a suicidal person. It was a sparkly, windy day. A wild riot of waves threw themselves at the beach. The piercing cold from overnight storms was tempered by a late winter sun. I was exhilarated, but I had not yet imagined being in those other shoes. When I did, the brightness hurt my eyes. The wind was malignant. The waves taunted me endlessly. My walk became a fearful journey. Where were my enemies? That elderly couple walking towards me? Or were they hiding in the runnels of sand, newly created by the storm? Or leaving messages in the tangles of seaweed and driftwood? Everything threatened. And with each threat, the beach became more and more menacing.
I was glad that I was only imagining this overwhelming oppression and fear. I let it go and returned to that initial exhilaration. Merlin danced around and barked at me to play.
Why would anyone want to die?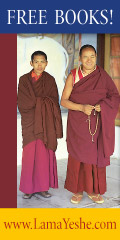 Your up and down emotions are like clouds in the sky; beyond them, the real, basic human nature is clear and pure.
Lama Thubten Yeshe
Contact Info
1632 SE 11th Avenue
Portland, OR 97214-4702 USA
Tel (503) 808-1588 | Fax (503) 232-0557
About FPMT
FPMT is an organization devoted to the transmission of the Mahayana Buddhist tradition and values worldwide through teaching, meditation and community service.
more...
About Buddhism
If you're new to Buddhism, please read our
Buddhism FAQ
. A place to learn about Buddhism in general, FPMT, and our Discovering Buddhism at Home series.