His Holiness Chobgye Trichen Rinpoche
1920 – 2007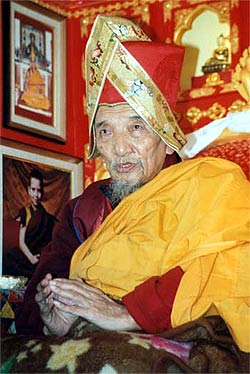 Chobgye Trichen Rinpoche's Passing »
Latest News »
Photos of Last Korwa »
Prayer for Rinpoche's Quick Return
His Eminence Chobgye Trichen Rinpoche was head of the Tsharpa sub-lineage of the Sakya order of Tibetan Buddhism. He was the 26th patriarch of Phenpo Nalendra Monastary, founded by Rongton Sheja Kunrig (1367-1449). Born in 1920, His Eminence was recognized by the 13th Dalai Lama as 18th in the lineage of Chobgye Trichens.

After going into exile, Chobgye Trichen Rinpoche built two monastaries: one in Lumbini, birthplace of the Buddha and the other in Kathmandu. Rinpoche is regarded as a master of masters; most Tibetan Buddhist lineage holders are his disciples, including His Holiness the Dalai Lama, His Holiness Sakya Trizin and the late Dudjom Rinpoche. Rinpoche conducted a series of three and a half year solitary meditation retreats for senior Sakyapa monks over the past fifteen years. Rinpoche spent so much time in meditation retreat that he was regarded as a hidden master.
The most happy thing in my life, most fulfilling thing is to work for and to benefit sentient beings. Even just the mere thought to cause happiness to sentient beings, to benefit them, to free them from suffering is the BEST offering to all the buddhas and bodhisattvas. This is the best offering, the best puja; this is what pleases their holy mind most.
Lama Zopa Rinpoche
Contact Info
1632 SE 11th Avenue
Portland, OR 97214-4702 USA
Tel (503) 808-1588 | Fax (503) 232-0557
About FPMT
FPMT is an organization devoted to the transmission of the Mahayana Buddhist tradition and values worldwide through teaching, meditation and community service.
more...
About Buddhism
If you're new to Buddhism, please read our
Buddhism FAQ
. A place to learn about Buddhism in general, FPMT, and our Discovering Buddhism at Home series.