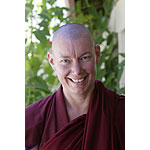 Ven. Tenzin Chogkyi first became interested in meditation after reading Be Here Now and Autobiography of a Yogi in the early '70's. For the next 20 years, her spiritual path was meandering and haphazard, and included several dead ends, until she bought a one-way ticket to India in early 1991 with the intention of meeting His Holiness the Dalai Lama. She then became a student not only of His Holiness, but also of Kirti Tsenshab Rinpoche and Lama Zopa Rinpoche during the year she spent studying at Tushita Meditation Centre in Dharamsala and Kopan Monastery in Kathmandu.
After returning to the US, Tenzin Chogkyi worked at various positions within Lama Zopa Rinpoche's organization, the Foundation for the Preservation of the Mahayana Tradition – director of Vajrapani Institute, co-director of FPMT International Office, FPMT Center Services Coordinator – and also completed several long meditation retreats.
She took novice ordination in 2004 with His Holiness the Dalai Lama, and since 2006 she has been teaching at various FPMT centers around the globe. She is a regular teacher at centers in North and South America, India, Nepal, Australia, and New Zealand, and a visiting teacher for the Liberation Prison Project, having taught in prisons in the US, Colombia, Australia, and New Zealand. She is also interested in hospice work and animal rescue, and helped to found the Karuna Animal Sanctuary near Dharamsala in India.
Statements of Appreciation
First of all, congratulations on the successful launch of the DB Online programme, its fantastic!!! Second, I've long meant to comment on how amazed I am by all resources of the FPMT Education Department, and the breadth of the Education Program worldwide (and accessibility) from DB to the Masters Program. Its all first-rate, from the teachings, the resources and materials, all the booklets, audio and video FPMT offers are quite fantastic, and such an important support for anyones practice at any level. The love that's gone into all of it is abundant and obvious.
– Stephen Austra-Beck
Contact Info
1632 SE 11th Avenue
Portland, OR 97214-4702 USA
Tel (503) 808-1588 | Fax (503) 232-0557
About FPMT
FPMT is an organization devoted to the transmission of the Mahayana Buddhist tradition and values worldwide through teaching, meditation and community service.
more...
About Buddhism
If you're new to Buddhism, please read our
Buddhism FAQ
. A place to learn about Buddhism in general, FPMT, and our Discovering Buddhism at Home series.