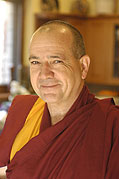 Thubten Dondrub was born in Adelaide, Australia 1947. After graduating with Honors in History from Flinders University, South Australia he met Buddhism in Australia in 1976 and attended teachings by Lama Yeshe and Lama Thubten Zopa Rinpoche in June 1976 at Chenresig Institute, Queensland.
Ven Dondrub received rabjung ordination from Geshe Thubten Loden in March 1977 in Australia and then started Bodhicitta House in Brisbane. From 1978- 1980 was Assistant Director at Chenrezig Institute. He then received getsul ordination from Geshe Loden in June 1977, and gelong ordination from Lama Thubten Zopa Rinpoche in Australia in October 1979.
In 1981 Ven Dondrub traveled as attendant with Sera–Je Abbot, Geshe Ngawang Legden to FPMT Centres in Europe. In 1982 he lived at Sera-Je Monastery, and in 1983-1986 he was attendant to Lama Thubten Zopa Rinpoche. From 1988 –1991 Ven lived in Taiwan, teaching and establishing FPMT Centre in Taipei. From 1991-2000 he was resident at Nalanda Monastery and director from 1992-1993
Ven Dondrub has received teachings and initiations from HHDL, Kyabje Ling Rinpoche, Song Rinpoche, Lama Thubten Yeshe, Lama Thubten Zopa Rinpoche and other great Masters of the Gelug tradition.
He has taught the month long November Course at Kopan Monastery, Nepal in 1987, 1996, 1997, 1998, 2001. As well he has taught in Australia, New Zealand, India, Nepal, Spain, Italy, France, Holland, Germany, Singapore, Malaysia, Taiwan , the US and Mexico.
Presently Dondrub is the Education Officer of the International Mahayana Institute, the association of monks and nuns connected to the FPMT. And since June 2002 he has been the resident teacher at Hayagriva Buddhist Centre, Perth, Australia.
Ven Dondrub was the contributing editor of the book "Spiritual Friends: Meditations by Monks and Nuns of the IMI, Wisdom Publications, 2001.
Statements of Appreciation
First of all, congratulations on the successful launch of the DB Online programme, its fantastic!!! Second, I've long meant to comment on how amazed I am by all resources of the FPMT Education Department, and the breadth of the Education Program worldwide (and accessibility) from DB to the Masters Program. Its all first-rate, from the teachings, the resources and materials, all the booklets, audio and video FPMT offers are quite fantastic, and such an important support for anyones practice at any level. The love that's gone into all of it is abundant and obvious.
– Stephen Austra-Beck
Contact Info
1632 SE 11th Avenue
Portland, OR 97214-4702 USA
Tel (503) 808-1588 | Fax (503) 232-0557
About FPMT
FPMT is an organization devoted to the transmission of the Mahayana Buddhist tradition and values worldwide through teaching, meditation and community service.
more...
About Buddhism
If you're new to Buddhism, please read our
Buddhism FAQ
. A place to learn about Buddhism in general, FPMT, and our Discovering Buddhism at Home series.