His Holiness praises Lama Zopa Rinpoche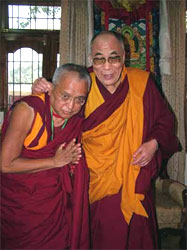 His Holiness the Dalai Lama said the following about Rinpoche and FPMT at the end of His teachings in Sarnath, India (Dec 19 -22nd, 2006).  The teaching event was co-sponsored by FPMT.
Please enjoy the photo, taken by Ven Roger Kunsang during Rinpoche's audience with His Holiness.
His Holiness the Dalai Lama speaking after Lama Zopa Rinpoche read praises describing His Holiness's deeds from taking rebirth to the present, and requested His Holiness to have long life and continue His activities. 
Here Rinpoche has offered some words of praise and requests, seven pages in all. One page was blank (laughs). I didn't understand all of what Rinpoche said so I asked him to bring it here, thinking to read it later.
Rinpoche is someone who follows my guidance sincerely, very expansively and with one hundred percent trust. He possesses unwavering faith and pure samaya; not only has he pure samaya and faith but whatever I instruct, Zopa Rinpoche has the capability to accomplish it. So whatever dedications Lama Zopa Rinpoche makes I also pray to accomplish this and you should do the same thing. Here among the listeners there are many lay and ordained people and people of different races gathered together. We are all the same in being inspired by the kind Buddha's teachings and in wishing to practice as much as we can. With such thoughts we are gathered here today. I am sure with this unifying force of faith and trust, if we pray there will be benefits.
The Buddha's teaching is now heading from the 20th into the 21st century. Generally, Buddha's teachings and especially the tradition of the great Nalanda pandits, as preserved by the people of the Land of Snow, are starting to be realized by others, throughout the world. At this time it is becoming more and more recognized that this is a unique tradition in having many benefits supported by reasoning.
At this time, I have no ability to do much but as I am a simple monk following the Buddha I always generate the motivation to benefit others as much as I can, for as long as space remains. Particularly, as there are many people who rely on me, the longer I live the more I can practically benefit, so I pray to live long.
As Rinpoche made dedication prayers I also pray to accomplish such, and you also do the same. It's very important that we all act with non-duplicitous sincerity and great vision, putting as much determined effort as we can, not just saying mere words and acting only when it's convenient. As long as our activities are beneficial to others we must put effort into them.
Rinpoche has inserted many extra words so I need to read this at leisure – there is no way I can read it immediately. Rinpoche, I am going to read it in a relaxed way (turns to Rinpoche and laughs).
I would like to thank all the people working in Rinpoche's organization. Actually we will have a brief meeting later on but you all are working very hard until now. I would like to request you to continue. Rinpoche works with such determination and great sincerity in the service of Buddha's teachings and sentient beings, it's important that we all combine our efforts. Other than that I have nothing special to say.
Statements of Appreciation
A few days ago I completed a year of retreats….at two FPMT centres (though I have visited and am very familiar with several others).  The staff of the two centres could not have been kinder and more supportive.  It is especially through appreciating their cultures of care and support for retreatants that I have renewed my admiration for the FPMT, and thereby for your [Lama Zopa Rinpoche's] extraordinary holy activity for sentient beings.  I  have reflected on how marvelous it is in the world of suffering, war, depression, social dissatisfaction and spiritual denial, to have these oases of perfection, the FPMT centers. Moreover I have witnessed some unfortunate, unethical activities in other Buddhist organizations that make one feel so sad.  Also the FPMT is generating study in the tradition of Je Rinpoche and yogic practice leading to enlightenment in a unique way.  Compared to other organizations, the FPMT shines with virtue and a deep harmony.  Of course there are superficial problems that come and go within FPMT – this is only to be expected – but I recognize that these are insignificant compared with the tremendous benefits to all  beings generated through FPMT activities.
– Andy Wistreich, August 2008
Contact Info
1632 SE 11th Avenue
Portland, OR 97214-4702 USA
Tel (503) 808-1588 | Fax (503) 232-0557
About FPMT
FPMT is an organization devoted to the transmission of the Mahayana Buddhist tradition and values worldwide through teaching, meditation and community service.
more...
About Buddhism
If you're new to Buddhism, please read our
Buddhism FAQ
. A place to learn about Buddhism in general, FPMT, and our Discovering Buddhism at Home series.