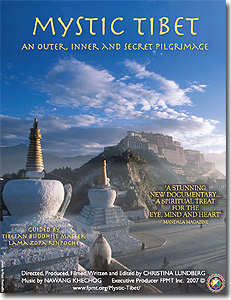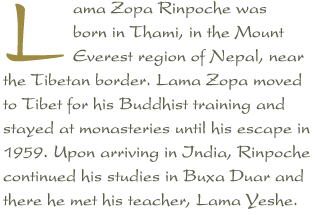 In 1976, Lama Yeshe and Lama Zopa started the Foundation for the Preservation of the Mahayana Tradition (FPMT) which is an organization devoted to transmission of the Mahayana Buddhist tradition and values worldwide through teaching, meditation and community service. The FPMT is thriving with over 147 centers and projects worldwide. Please CLICK for further information on Lama Zopa Rinpoche.
---
Filmmaker
Directed, produced, filmed, written, and edited by CHRISTINA LUNDBERG.
Christina Lundberg is an award winning filmmaker who brings her extensive experience making documentary films to Mystic Tibet. Her previous work includes Discovering Buddhism, a 13 part series on Tibetan Buddhism hosted by Richard Gere and Keanu Reaves, and featuring His Holiness the Dalai Lama and other great lamas. She created a 26 part television series on Buddhism for Mongolia National Television which has run for three consecutive years to over 1.5 million viewers. Other projects include a video about The Maitreya Project which is currently translated into 9 languages and the documentary, On the Road Home, about a woman's spiritual journey and the holy female teachers who teach her along the way.
Ms. Lundberg's depth of understanding of Tibetan Buddhism combined with her skilled filmmaking provide a strong foundation for capturing the unique and profound dimensions of this pilgrimage and the benefits of such a holy activity with such a master as Lama Zopa Rinpoche.
---
Soundtrack
Music by NAWANG KHECHOG and MERCEDES BAHLEDA.
Grammy-nominee Nawang Khechog is an internationally-renowned flutist, and a former Tibetan Buddhist monk. Khechog has performed over a dozen times at Carnegie Hall. His unique background of religious training and musical experience produces a haunting and evocative soundtrack for a spiritually-transformative experience.
Tibetan religious music is an integral component of the Buddhist culture so precious to this devout land. Mystic Tibet contains sections of traditional ceremonial music performed by the monks and nuns participating in the sacred rituals led by Lama Zopa Rinpoche and recorded directly in real time. This combination of authentic ritual music along with Nawang Khechog's unique style deepens and expands the spiritual quality of the viewers' experience.
---
Production
Executive Producer: FPMT, INC. © FPMT, Inc., 2007
---
Movie Sponsors
| | | |
| --- | --- | --- |
| Jin Ling Kwang | Alfred Leyens | Gintaras Ziaunys |
| Pimporn Chavasant | Venerable Pemba | Kerry Wells |
| Ciaran Flanagan | Chiumin Lai | Rosella DePass |
| Lois Smith | Chan Yew Mun | Barbara Oquest |
| Eva Rolf | Doris Lim | Margot Willing |
| Robert Cayton | Adrian Dec | Patricia Lamb |
| Rafael Estrems | Anne McGrath | Kimberley Hollender |
| Doss McDavid | Carol Dawson | Carlo Carranza |
| Annelieis Van De Heijden | Yasmin Rieger | Jan Von Kriegenberg |
| Katarina Hallonblad | Clarence Khoo | Joe Lee |
| Bridget Harris | Dianne Cadwallader | Maitri Lau |
| Jules Helsen | Sharon Harzenski | Wee Meng Tan |
| Roy Sutherwood | Alan Wells | Eivind Skjellum |
| Edward Falenski | Teresa Froncek | Amy Miller |
| Mark Ruggieri | Sherlynn Leom | Tara Melwani |
| Alice Leung | O L Lee | Peter Voegele Shakya |
| Hospice of Mother Tara | Beverly Vo | Kim Looi |
| Maria Mimosa | Dean Saalisi | Gerogelin Patrick |
| Yeoh Seng Hock | Yeoh Li Ean | Cecilia Tsong |
| Christina Whiteside | Rafael Estrems | Susan Ostertag |
| Carlo Carranza | Jane Sellers | Decouze Laurent |
| Chandrakirti Center |   |   |
Contact Info
1632 SE 11th Avenue
Portland, OR 97214-4702 USA
Tel (503) 808-1588 | Fax (503) 232-0557
About FPMT
FPMT is an organization devoted to the transmission of the Mahayana Buddhist tradition and values worldwide through teaching, meditation and community service.
more...
About Buddhism
If you're new to Buddhism, please read our
Buddhism FAQ
. A place to learn about Buddhism in general, FPMT, and our Discovering Buddhism at Home series.