Repaying the Kindness of Lama Yeshe by Supporting Tenzin Osel in his endeavors on behalf of FPMT
News • Videos • Photos • Donate Now 
The recognized incarnation of FPMT's founder, Lama Thubten Yeshe, was in his early life known as Lama Osel. Today he prefers to be called simply "Osel." Tenzin Osel Hita is a 21st-century radical freethinker, humanitarian, documentary filmmaker, musician, father, friend, life-long student, and former Buddhist monk. 
"My job is to find new ways in which to discover the true nature of our being. …  I'm trying to find a different way for this future generation." — Tenzin Osel Hita
The Big Love Fund was established while remembering the kindness of Lama Yeshe and the intent to offer support to Osel's educational and creative endeavors. As Osel finds his own unique way of benefiting others, this fund is one way that FPMT is able to support and encourage him. 
You can learn more about Osel here including videos of his talks. 
---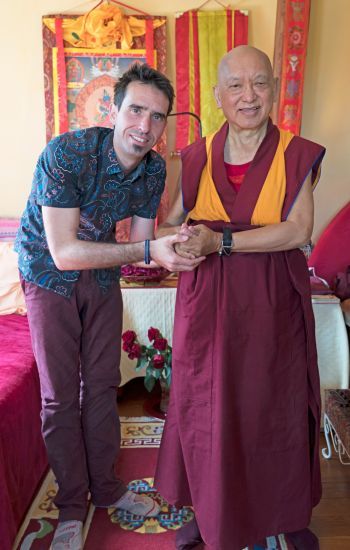 Latest News
11th February 2020
FPMT International Office wishes Tenzin Ösel Hita a very happy birthday and a long, healthy life. May his beneficial activities flourish and wishes come instantly into fruition! Tenzin Ösel Hita, the recognized reincarnation of FPMT founder Lama Yeshe, turns 35 …
---
How Can I Make a Donation?
You can also send a check in US dollars payable to FPMT Inc. and write "Big Love Fund" on the memo line.
FPMT Inc.
1632 SE 11th Avenue
Portland, OR 97214-4702
USA
The Big Love Fund is a project of FPMT Inc. and is administered by FPMT International Office located in Portland, Oregon, United States. All donations made to this fund are tax-deductible within the United States in accordance with IRS Code article 501(c)(3) to the extent allowed by law.
For more information please contact: Charitable Projects Coordinator.