Supporting Dharma education worldwide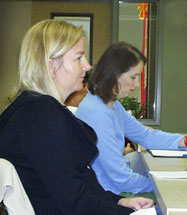 Having Dharma knowledge and understanding Dharma is like a clear crystal; not only that, it is enriched with compassion and a special attitude, like bodhisattvas who take full responsibility alone to liberate countless sentient beings from the most unbearable oceans of suffering of samara.
Qualified teachers and practitioners are essential to the successful transmission of the Dharma around the world. FPMT Education Services has developed a wide range of education programs to meet the needs of every student, and continues to develop new programs that preserve the lineage and educate the next generation.
The Education Fund provides the funding needed to create our comprehensive education programs and helps FPMT centers and students enrolled in FPMT programs, enabling them to become FPMT Dharma teachers, meditators, and practitioners.
Projects we have supported include:
Creation of the Masters Program at Istituto Lama Tzong Khapa, Italy
Development of Masters Program Guidelines for FPMT-wide implementation
Creation and development of the Basic Program, now hosted at more than twenty FPMT centers around the world, and available as a homestudy program.
Scholarships to Masters Program students from France, USA, Canada, and Italy
Scholarships to students of Maitripa College's Advanced Buddhist Studies Program, USA
Creation of Discovering Buddhism, now hosted at over 100 FPMT centers around the world, and available as a homestudy program.
Teacher Training Workshop in Europe
Basic Program pilot course at Chenrezig Institute, Australia
My years at Maitripa College have been an invaluable and transforming experience for me personally, spiritually, and academically. It is only because of FPMT's scholarship that I have been able to receive this education. My deep gratitude goes to the inexhaustibly kind guide Kyabje Lama Zopa Rinpoche and to the work of FPMT for offering such generous support to me and fellow students.
 Please enjoy this brief Mandala Magazine's article on the Education Fund (Oct-Dec, 2009)
The opportunity to receive a Dharma education is most precious. Please help us educate and support the next generation of teachers and practitioners!
For more information please contact the FPMT Education Services Director
The Education Fund is a project of FPMT Inc.