FPMT Mongolia: Re-igniting Buddhism in Central Asia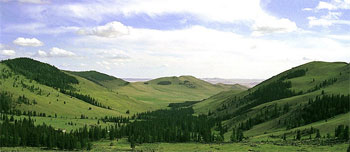 In late 1999, FPMT Mongolia (a non-profit religious organization) was established to help re-light the lamp of Mongolian Buddhist culture – which was almost completely destroyed by the Communist regime – and to provide assistance for the poor and under-privileged.
The first major success was the establishment of Ganden Do Ngag Shedrup Ling, the FPMT Dharma center in Ulaanbaatar, the capital of Mongolia. With this as a starting point, generous donors from all over the world have helped FPMT Mongolia reach remarkable milestones. These include:
The construction of Idgaa Choizinling College

The formation of the Mongolian Sangha Food Fund, which provides for the food of the monks at the Idgaa Choizinling College

The renovation of Dolma Ling Nunnery

The establishment of the Lamp of the Path NGO to carry out social services in Ulaanbaatar and elsewhere in the country

The establishment of the Golden Light Sutra Center in Darkhan in northern Mongolia to provide teachings and social services to the people in this city and the surrounding countryside

The establishment of the Aryadeva Study Group in Erdenet, the third largest Mongolian city by population

Daily Dharma teachings and meditation classes at the Ganden Do Ngag Shedrup Ling and Golden Light Sutra Centers and outreach teachings in prisons, schools, universities and other monasteries

The translation and publication of 27 different titles of Dharma texts and prayers from Tibetan and English into Mongolian, by Enlightening Mind Publications

The presentation of the television series Discovering Buddhism to hundreds of thousands of viewers and the broadcast of FM-radio Dharma programs.

The hosting of the fourth Enlightenment Experience Celebration (EEC4) event in conjunction with FPMT International Office

Listing of all the FPMT centers, projects and services in Mongolia

To find out more please visit the FPMT Mongolia website.
Make a Donation to Support FPMT Mongolia
FPMT has established FPMT Mongolia as a designated purpose fund, which with the support of generous benefactors, supports the work of FPMT's affiliate in Mongolia. All donations made to the fund are tax-deductible to the extent allowed by law.