News / Media

*If a menu item has a submenu clicking once will expand the menu clicking twice will open the page.

Education

*If a menu item has a submenu clicking once will expand the menu clicking twice will open the page.

Projects

*If a menu item has a submenu clicking once will expand the menu clicking twice will open the page.

FPMT

From the Buddhist point of view, attachment for something means that it's very difficult for us to separate from it. We have a very strong attachment – strong like iron – for the things we think of as being very good. We need to learn to be flexible.

Lama Thubten Yeshe

*If a menu item has a submenu clicking once will expand the menu clicking twice will open the page.

Shop

The Foundation Store is FPMT's online shop and features a vast selection of Buddhist study and practice materials written or recommended by our lineage gurus. These items include homestudy programs, prayers and practices in PDF or eBook format, materials for children, and other resources to support practitioners.

Items displayed in the shop are made available for Dharma practice and educational purposes, and never for the purpose of profiting from their sale. Please read FPMT Foundation Store Policy Regarding Dharma Items for more information.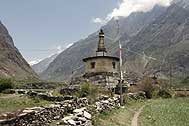 In 2003, Lama Zopa Rinpoche was requested by Dukpa Rinpoche, a Bhutanese lama, to take care of his monastery and nunnery in the remote Tsum valley. Tsum valley is located in the northern border area of Nepal close to Tibet. The monks and nuns of these two places were in desperate need of help, being unable to support themselves any longer. Lama Zopa Rinpoche accepted the request immediately. He asked Tenzin Zopa, a disciple of the late Lama Konchok, to take on the task of finding support for the people of Tsum. Work started last year on improving the living conditions of the sangha in Tsum. People all over the world have shown keen interest in helping to make this possible and have donated generously.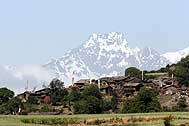 Beyul Kyimolung – The Valley of Happiness
In the remote borderlands of the high Himalayas, several valleys are said to be Beyul's – hidden or secret valley, that are only open to those with a very pure mind and heart. According to ancient scriptures, they were established by Guru Rinpoche, the 8th century Indian saint credited with spreading Buddhism into the Himalayas and Tibet. Hidden valleys are havens of peace, prosperity and spiritual progress, a place of refuge for believers. In the 17th century the Tsum valley that branches off the Buri Gandaki river towards the north of Ganesh Himalaya (Mountain) in upper Gorkha, was named Beyul Kyimolung.
Even non-Buddhists understand why Tsum is perceived as a blessed land. Perhaps one of Nepal's most beautiful valleys, it is cut off from the southern lowlands of Nepal by deep, forested gorges and swift rivers, and from Tibet in the north by snow-covered passes. The surprisingly flat valley floor provides for some 4,000 inhabitants of almost exclusively Tibetan origin.
This is the home of around 100 monks and nuns at Mu Monastery and Rachen Nunnery.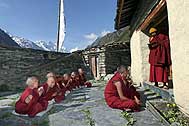 Mu Monastery
Thirty monks were living at Mu monastery when Geshe Lama Konchok was abbot in the 1970's. The three monastic practices (monthly confession and the two summer retreat ceremonies) were observed. During summer Geshe la would take the monks and nuns to some holy place in the valley such as one of the Milarepa caves and give teachings for several months, begging in the surrounding villages for food for his disciples.
Of the original 30 monks only 7 are still there, all of them 60 years or more. They spend their time in life long retreat, living in utmost poverty. One of them explains the situation like this:
"Before, it was very sad here; the walls were falling down, there was hardly any food, nobody came to make offerings or to support us. It seemed there was no hope."
Because the monastery could not provide education, food and shelter, not one single boy or man had joined the monastery in the past 20 years.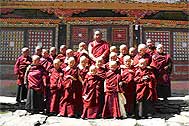 Now, however, there is hope. Since the monastery was handed over to the care of Lama Zopa Rinpoche the living conditions already have improved a lot. Now there is a regular food supply. Caravans of yaks travel to Tibet every two months to get the necessary food supplies. Some ten young monks have joined the monastery and are studying Tibetan and learning prayers and rituals from a qualified resident teacher that joined the monastery from Sera University in India earlier this year.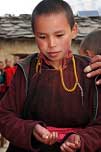 Rachen Nunnery
After Rachen nunnery was founded in 1936 by Drukpa Rinpoche, many women joined. They are dedicated their whole life to spiritual practice under the guidance of experienced masters, and eventually the nunnery grew even larger than nearby Mu monastery.
Rachen nunnery is currently home and safe haven for around 80 nuns, with more young women registered to be ordained in the near future. The oldest nun is 75 years old, and the youngest is now 7 years old.
Many of the nuns come from poor families, and have suffered a life of abuse, beating and threats of forced marriage before joining the nunnery.
Being young and female in these remote areas means quite often to be a victim of abuse; one of the ways to escape this fate is to run away as far as possible, or join a nunnery, an accepted place of protection and refuge.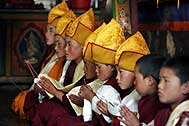 There is an even greater interest in joining the nunnery now that the living conditions have improved. By entering the nunnery they have the chance to make their life most meaningful through the study of the Dharma. Taking on incredible hardships, living the simplest life they proceed steadily on the path to liberation.
Please contact Kopan Monastery for more information.
How Can I Make a Donation?
Any amount of donation is welcome. To make a donation simply send your check in US dollars to FPMT Inc. and write Tsum on the check or provide your credit card details and mail to:
FPMT Inc.

1632 SE 11th Avenue

Portland, OR 97214-4702 USA

Click here to Donate On-Line

Your donation will go towards supporting the following activities:

Building new rooms for the sangha at Rachen Nunnery and Mu Gompa
Providing the daily food for all sangha
Developing infrastructure (water supply and sanitation for nunnery and monastery)
Developing educational facilities – teachers wages, education material
Providing continued health care and affordable medicines for everybody
FPMT has established Tsum (TSUM) as a designated purpose fund, which with the support of generous benefactors, supports the work of FPMT's affiliate, Tsum (TSUM). All donations made to the fund are tax-deductible to the extent allowed by law.
When you recognize your problem comes from your concept or your concept is the problem, you don't blame others.
Lama Zopa Rinpoche