Animal Liberation Sanctuary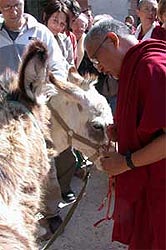 The Animal Liberation Sanctuary is a project being created near Kopan monastery in Nepal. The object of the sanctuary is to house animals that were to be killed so that they may live out the natural course of their lives in peace and gain a higher rebirth. The sanctuary is being created at the behest of Lama Zopa Rinpoche and will be the first of many animal sanctuaries throughout the world.
The sanctuary will give rescued animals an opportunity to gain a better rebirth because not only will they be freed from impending death but they will also be exposed to the Dharma. Lama Zopa Rinpoche himself gives many blessings and recites mantras to benefit animals and it is planned that the rescued animals will regularly hear mantras and be led around the stupas to create merit.
In his concern for animal welfare, Rinpoche is not alone. In fact, His Holiness the Dalai Lama shares a commitment to animal rights. As he recently said:
Today, together with a growing appreciation of the importance of human rights there is a greater awareness worldwide of the need for the protection not only of the environment, but also of animals and their rights. Where there is a mind, there are feelings such as pain, pleasure and joy. No sentient being wants pain, instead all want happiness. Since we all share these feelings at some basic level, we as rational human beings have an obligation to contribute in whatever way we can to the happiness of other species and try our best to relieve their fears and sufferings.
With the help of generous donations, land was purchased in 2006. In 2007 a development plan was prepared dealing with water use, electricity, food production and storage, erosion control, building requirements, staffing, animal care, Dharma activities, future plans and much more.
From this study, it was clear that there were a number of challenges to the project, mainly due to the steep terrain of the land and its close proximity to a recently opened police training centre.
Most of the land is made up of narrow terraces and it is effectively divided into two sections separated by steep, un-terraced government land. Erosion is a significant issue, particularly if larger animals like buffaloes and cows have access to the fragile terraces. Also, there is currently no year-round vehicle access to either sections of the land and getting construction materials to the land would be a major undertaking.
The positive aspects concluded that the upper sections could be suitable for goats and sheep as well as having good locations for the caretakers building, animal sheds and stupas.
Current Situation
In early 2008 it was decided that the challenges with this land were too great and it was not suitable for the animal sanctuary. Instead, it would be sold and more suitable land which can provide for the long term care of large animals like buffaloes as well as goats and others would be sought.
In the meantime, Lama Zopa Rinpoche has selected eight different Newari stone-carved stupa designs for the land. These will be placed at strategic locations to allow the animals to see them and circumambulate them. We would like to begin carving these stupas.
Holy objects help other beings easily to purify immense amounts of negative karma and create the causes of happiness and merit, which definitely brings them to enlightenment quickly.
When Can I Liberate Animals?
Kopan Monastery houses a number of animals that have been liberated. In recent years, the number of animals at Kopan has grown substantially, and this is becoming a problem. The monastery is not really suitable for farm animals – just ask the gardener after the goats have escaped! Only after the sanctuary is opened and the animals currently living at the monastery are moved to the new land will more animal liberations be able to take place. Until the sanctuary is open, we are not able to liberate or accept any more animals.
Can I Sponsor an Animal?
Yes! There are animals already at Kopan that need ongoing care. Sponsoring an animal at Kopan is one of the most effective ways you can help the animals and Rinpoche's Sanctuary Project. Liberating an animal from death is not just about saving it from the butcher but it is also about giving long term care such as providing food, shelter, and medical treatment when needed, as well as offering every opportunity to escape the lower realms by exposing it to Dharma and frequently circumambulating holy objects.
Can I Sponsor a Stupa?
Yes! There will be eight different stupas.  You can offer the costs of a whole stupa, or donate as much as you would like to the general fund.  Cost estimates range from US$2200 to US$6990.
Thanks
This project has been possible due to the kindness and generosity of many, including the Brigitte Bardot Foundation and the generosity of a kind anonymous sponsor in the USA. Many people have offered their help, financially and otherwise. We would like to give thanks to all of them.
For more information please contact Tania Duratovic and Phil Hunt
Coordinators: info@enlightenmentforanimals.org 
FPMT has established the Animal Liberation Sanctuary (ALS) as a designated purpose fund, which with the support of generous benefactors, supports the work of FPMT's affiliate, the Animal Liberation Sanctuary (ALS). All donations made to the fund are tax-deductible to the extent allowed by law.
Contact Info
1632 SE 11th Avenue
Portland, OR 97214-4702 USA
Tel (503) 808-1588 | Fax (503) 232-0557
About FPMT
FPMT is an organization devoted to the transmission of the Mahayana Buddhist tradition and values worldwide through teaching, meditation and community service.
more...
About Buddhism
If you're new to Buddhism, please read our
Buddhism FAQ
. A place to learn about Buddhism in general, FPMT, and our Discovering Buddhism at Home series.