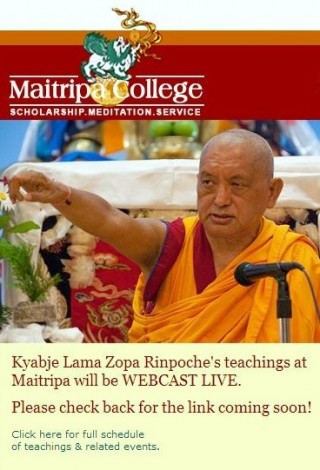 This upcoming week, on Saturday April 19 and Monday April 21, Lama Zopa Rinpoche will offer Vajrasattva Initiation and the Oral Transmission for Dorje Khadro at Maitripa College in Portland, Oregon.
All public portions of the Vajrasattva initiation and oral transmission will be webcast live courtesy of Maitripa College.
FPMT Education Services makes available materials needed for these practices, which you purchase online at the FPMT Foundation Store.
The Preliminary Practice of Vajrasattva contains the short and long practice of Vajrasattva as well as Vajrasattva tsog. It also contains commentary, retreat advice, altar set-up, and retreat preliminaries.
The Preliminary Practice of Dorje Khadro text by Lama Zopa Rinpoche provides everything one needs to be able to do the complete ngöndro of Dorje Khadro, the recitation of the principal mantra 100,000 times coupled with extensive visualization and prayers. The book's practice section includes the Dorje Khadro practice text, Lama Tsongkhapa Guru Yoga and lam-rim and dedication prayers. In addition, the book contains teachings that contribute to a student's understanding of how to best engage in this practice.
You can learn more about this teaching event schedule or register on the Maitripa website.
Statements of Appreciation
First of all, congratulations on the successful launch of the DB Online programme, its fantastic!!! Second, I've long meant to comment on how amazed I am by all resources of the FPMT Education Department, and the breadth of the Education Program worldwide (and accessibility) from DB to the Masters Program. Its all first-rate, from the teachings, the resources and materials, all the booklets, audio and video FPMT offers are quite fantastic, and such an important support for anyones practice at any level. The love that's gone into all of it is abundant and obvious.
– Stephen Austra-Beck
Contact Info
1632 SE 11th Avenue
Portland, OR 97214-4702 USA
Tel (503) 808-1588 | Fax (503) 232-0557
About FPMT
FPMT is an organization devoted to the transmission of the Mahayana Buddhist tradition and values worldwide through teaching, meditation and community service.
more...
About Buddhism
If you're new to Buddhism, please read our
Buddhism FAQ
. A place to learn about Buddhism in general, FPMT, and our Discovering Buddhism at Home series.