Every organization has its own distinctive culture. Around the world, in FPMT Dharma centers and projects, in its policies and educational programs, that culture is infused with the wisdom and compassion of our founders, Lama Thubten Yeshe and Lama Zopa Rinpoche. Here are the key points of the FPMT Wisdom Culture: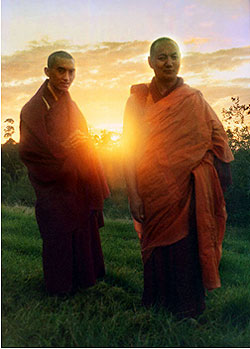 Openness and breadth in presenting the Dharma. Lama Yeshe's teaching style was non-traditional, yet completely pure in source and content. In this way, we make the Dharma accessible according to the culture and needs of our students.
Detail and depth of instruction. Lama Zopa Rinpoche's teaching style emphasizes how to practice and making each moment deeply meaningful through bodhichitta and emptiness. Education in FPMT is rigorous and emphasizes regular meditation, retreat, and practice.
Experiential lam-rim teaching methods and Kopan-style courses.* We encourage realization of the lam-rim teachings in the heart, not just intellectual study.
Constant practice of merit accumulation and purification. These practices are emphasized as essential to bringing temporal happiness and preparing the mind for realization.
Reliance on tantra; encouraging students to have spiritual confidence.
Respect and support for ordained Sangha. We consider ordained Sangha essential to the tradition.
Cultivation of a close family feeling. FPMT is a worldwide family of practitioners, united by our culture, devotion to our teachers, and standard practice materials.
Thinking big. We cultivate the wish to be of great benefit to countless beings, and then put that wish into practice!
Big love. Cherishing others. Imparting a universal love for all beings.
*Kopan Monastery is the principal monastery of FPMT, where Lama Thubten Yeshe and Lama Zopa Rinpoche first began teaching in the early 1970s. The intensive Kopan November Course – first taught by these two lamas – combines experiential lam-rim instruction with meditation, and is held annually to this day.
The most happy thing in my life, most fulfilling thing is to work for and to benefit sentient beings. Even just the mere thought to cause happiness to sentient beings, to benefit them, to free them from suffering is the BEST offering to all the buddhas and bodhisattvas. This is the best offering, the best puja; this is what pleases their holy mind most.
Lama Zopa Rinpoche
Contact Info
1632 SE 11th Avenue
Portland, OR 97214-4702 USA
Tel (503) 808-1588 | Fax (503) 232-0557
About FPMT
FPMT is an organization devoted to the transmission of the Mahayana Buddhist tradition and values worldwide through teaching, meditation and community service.
more...
About Buddhism
If you're new to Buddhism, please read our
Buddhism FAQ
. A place to learn about Buddhism in general, FPMT, and our Discovering Buddhism at Home series.