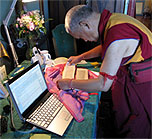 Questions? e-mail workaday@fpmt.org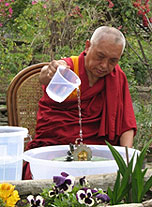 International Office Annual Review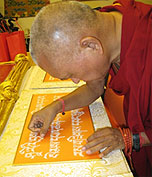 Work a Day for Rinpoche
Distribution of Funds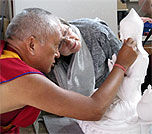 Summary of the FPMT Financial Performance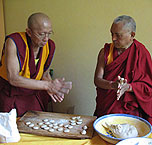 FPMT's spiritual director Lama Zopa Rinpoche never stops working to benefit sentient beings. Over the years, Rinpoche's students have shared countless stories of Rinpoche forgoing sleeping, eating or having any concern for himself so that he can do another puja before rushing to the airport, or teaching students into the early morning hours so that they have the complete transmission, or stopping the car to liberate the worms on the road or the goat waiting outside the butcher's door. Rinpoche embodies the attitude of a bodhisattva; Rinpoche's every action is a cause for the complete enlightenment for all beings.
By supporting the Work a Day for Rinpoche Fund, we can all aspire to making our day-to-day efforts at work and home more meaningful and beneficial. The idea is simple. Work a Day for Rinpoche is celebrated on Saka Dawa, the day commemorating Buddha's birth, enlightenment and parinirvana. As it is a Buddha Day, virtuous activities performed on Saka Dawa are multiplied one hundred million times. So when you contribute to this fund by dedicating your virtuous activities and part of your salary earned on Saka Dawa to helping realize Rinpoche's wish to transmit the Mahayana Buddhist tradition worldwide, your virtuous activity generates enormous merit.
Donations made to this fund go to FPMT International Office, which works to support Rinpoche's vast vision. If you are inspired by Rinpoche's limitless compassion, please consider making a contribution to the Work a Day for Rinpoche Fund.
Here's what you can do:
Join the international FPMT community as we, together, Work a Day for Rinpoche. All contributions, big or small, truly make a difference.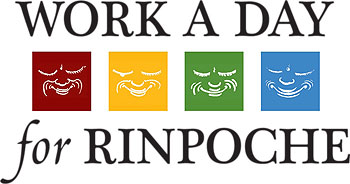 include virtual="/inc/wad.php')
I can't wait until June 7th,
To donate now with your credit card:

DONATE
For other forms of donations such as check or bank wire,
please choose one of the options below.


Check Donations
To donate by check in US funds, please make the check payable to FPMT, Inc., and mail your donation to:
Work a Day for Rinpoche
c/o FPMT
1632 SE 11th Ave.
Portland, OR 97214  USA
Bank Wire Donations
For bank wire instructions, please email
workaday@fpmt.org
.
Statements of Appreciation
I'm really glad that I decided to do the (Basic Program) exam and retreat, as it has given me renewed enthusiasm towards more study and meditation, and humility realizing that whatever I think I know is only like a drop in the the ocean of Dharma. …Thank you, and the FPMT office, for all you have done in putting this program together and administering it.
– Janet, USA
Contact Info
1632 SE 11th Avenue
Portland, OR 97214-4702 USA
Tel (503) 808-1588 | Fax (503) 232-0557
About FPMT
FPMT is an organization devoted to the transmission of the Mahayana Buddhist tradition and values worldwide through teaching, meditation and community service.
more...
About Buddhism
If you're new to Buddhism, please read our
Buddhism FAQ
. A place to learn about Buddhism in general, FPMT, and our Discovering Buddhism at Home series.