Universal Education for Compassion and Wisdom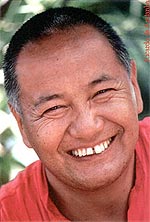 In Buddhism we have an incredible arrangement, universal education from the beginning at birth up until death, as an old man. I feel these things could be put into a universal language. Give up religion, give up Buddhism. Go beyond Buddhism. Put the essential aspect of the philosophy into scientific language. This is my aim.
 
Universal Education for Compassion and Wisdom takes forward the vision of its founder, Lama Thubten Yeshe. He envisioned an educational system that presents the profound wisdom of all religions in a way that transcends individual countries, philosophies and regions and contains both scientific and spiritual dimensions without compromising either; an education in techniques to develop love and compassion in everyone, including people averse to the world 'religion'.
Thus, the aim of Universal Education for Compassion and Wisdom is to empower children, youth and adults to make a positive difference in the world through developing their innate capacity to be kind and wise, and to live in a way that will bring peace and wellbeing to themselves and the people around them.
This is the 'essential' education traditionally passed down from elder to child, teacher to pupil, and in places of worship. In a world beset by economic downturn, a severely damaged natural environment, religious fundamentalism and ethnic conflict, it is needed more than ever – especially in a fresh, contemporary and universal form that will inspire and draw people together rather than divide them.
Universal Education for Compassion and Wisdom is a UK-based NGO established in 2005 under the title "The Foundation for Developing Compassion and Wisdom." Its patron is His Holiness the Dalai Lama and Lama Zopa is its Honorary President.
---
Letter from the Director Feb, 2011
To know more about current UECW activities please refer to:
16 Guidelines for a Happy Life www.16guidelines.org
Creating Compassionate Cultures www.creatingcompassionatecultures.com
Transformative Mindfulness www.lamponthepath.org
The Potential Project www.potentialproject.com
Every second of this human life is more precious than skies of wish-granting jewels.
Lama Zopa Rinpoche
Contact Info
1632 SE 11th Avenue
Portland, OR 97214-4702 USA
Tel (503) 808-1588 | Fax (503) 232-0557
About FPMT
FPMT is an organization devoted to the transmission of the Mahayana Buddhist tradition and values worldwide through teaching, meditation and community service.
more...
About Buddhism
If you're new to Buddhism, please read our
Buddhism FAQ
. A place to learn about Buddhism in general, FPMT, and our Discovering Buddhism at Home series.