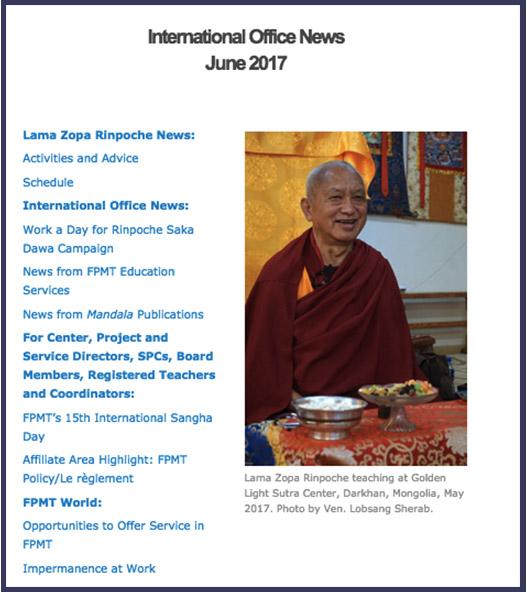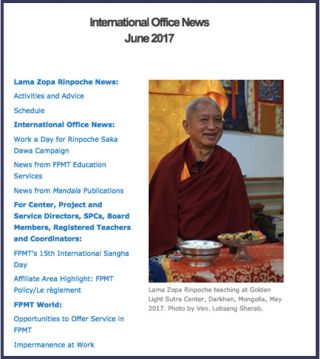 Monthly FPMT e-News & Foundation Store e-News


The monthly FPMT e-News will help keep you up to date on the latest news on Lama Zopa Rinpoche's schedule and advice, new Dharma education materials, FPMT centers, projects and services around the world, and opportunities to offer service.
Plus, a few times a year, as part of the FPMT e-News you'll hear about special campaigns for raising support for the Foundation.
Then, the Foundation Store e-News brings monthly special offers, new practice items and Dharma gifts.

View the latest FPMT e-News  |  View the latest Foundation Store e-News

Subscribe to the monthly FPMT e-News & Foundation Store e-News here:
You can change your mind at any time by clicking the unsubscribe link in the footer of any email you receive from us, or by contacting us at info@fpmt.org. We will treat your information with respect. For more information about our privacy practices please visit fpmt.org/privacy/. By clicking the "Sign Up" button above, you agree that fpmt.org can collect, store and use the data you submit through this form.
---



FPMT Latest News (daily digest)


Receive a daily digest of the latest news about Lama Zopa Rinpoche, announcements from FPMT International Office, new Dharma education materials, updates about projects and services, and news of FPMT teachers.

Subscribe to FPMT Latest News


To subscribe to the FPMT Yahoo! Group, send a blank email to fpmt-subscribe@yahoogroups.com.