News • Photos • Books & Articles & Talks • Big Love Fund 
The person recognized as the incarnation of FPMT's founder, Lama Thubten Yeshe, was in his early life known as Lama Ösel. Today he prefers to be called simply "Ösel."
Who Was Lama Yeshe?
Lama Thubten Yeshe was born in Tibet in 1935. At the age of six, he entered Sera Monastic University in Tibet where he studied until 1959, when as Lama Yeshe himself has said, "In that year the Chinese kindly told us that it was time to leave Tibet and meet the outside world." Lama Thubten Yeshe and Lama Thubten Zopa Rinpoche met their first Western students in 1965.
By 1971 they settled at Kopan, a small hamlet near Kathmandu in Nepal. In 1974, the Lamas began touring and teaching in the West, which would eventually result in The Foundation for the Preservation of the Mahayana Tradition. Lama Yeshe passed away in 1984.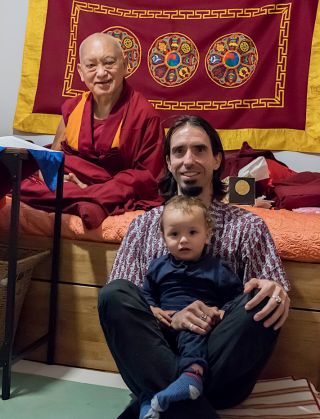 Latest News
11th February 2019
FPMT International Office wishes Tenzin Ösel Hita a very happy birthday and a long, healthy life. May his beneficial activities flourish and wishes come instantly into fruition! Tenzin Ösel Hita, the recognized reincarnation of FPMT founder Lama Yeshe, turns 34 …
About Ösel
In 1986, when Ösel was just over one year old, His Holiness the Dalai Lama confirmed Lama Zopa Rinpoche's observations that Ösel, son of Lama Yeshe's students, María Torres and Francisco Hita, was the unmistaken reincarnation of FPMT's founder, Lama Yeshe. Ösel was enthroned in March 1987 at Tushita Retreat Center in Dharamsala, India.
In 1991, at the age of seven, Ösel began his monastic education at Sera Je Monastery in southern India where he simultaneously received private tutoring in Western subjects. He continued his studies there until 2003, when he relocated to Victoria, British Columbia, to engage in a traditional Western education.
From 2004 to 2010, Ösel pursued many creative interests while living around Europe, including a Master's Degree in documentary film-making and completing two cooking courses. Additionally, he blossomed as a musician during this time.
In May 2010, Ösel was on the FPMT board of directors and attended his first meeting in Portland, Oregon, USA. When possible Osel spends time at various FPMT centers offering talks.
Ösel led pilgrimage in India and Nepal in 2015 and organized a charitable organization to help provide relief and rebuild Nepal following the April 2015 earthquake. 
In September 2017 Ösel welcomed his son Tenzin Norbu into the world. For the last two years Ösel has been teaching and traveling in Europe and the United States.
Ösel currently lives in Spain. 
Supporting Ösel
The Big Love Fund was established to provide financial resources to support the educational endeavors of Ösel. You are welcome to contribute any amount to this fund: