News / Media

*If a menu item has a submenu clicking once will expand the menu clicking twice will open the page.

Education

*If a menu item has a submenu clicking once will expand the menu clicking twice will open the page.

Projects

*If a menu item has a submenu clicking once will expand the menu clicking twice will open the page.

FPMT

We can transform any problem, even death, into happiness. The point is not to stop the experience of problems but to stop the conditions that we call 'problems' from disturbing our mind, and instead use them to support the spiritual path that we practice.

Lama Zopa Rinpoche

*If a menu item has a submenu clicking once will expand the menu clicking twice will open the page.

Shop

The Foundation Store is FPMT's online shop and features a vast selection of Buddhist study and practice materials written or recommended by our lineage gurus. These items include homestudy programs, prayers and practices in PDF or eBook format, materials for children, and other resources to support practitioners.

Items displayed in the shop are made available for Dharma practice and educational purposes, and never for the purpose of profiting from their sale. Please read FPMT Foundation Store Policy Regarding Dharma Items for more information.
The recognized incarnation of FPMT's founder, Lama Thubten Yeshe, was in his early life known as Lama Osel. Today he prefers to be called simply "Osel."
Tenzin Osel Hita is a 21st-century radical freethinker, humanitarian, documentary filmmaker, musician, father, friend, life-long student, and former Buddhist monk.
Who Was Lama Yeshe?
Lama Thubten Yeshe was born in Tibet in 1935. At the age of six, he entered Sera Monastic University in Tibet where he studied until 1959, when as Lama Yeshe himself has said, "In that year the Chinese kindly told us that it was time to leave Tibet and meet the outside world." Lama Thubten Yeshe and Lama Thubten Zopa Rinpoche met their first Western students in 1967.
By 1971 they settled at Kopan, a small hamlet near Kathmandu in Nepal. In 1974, the Lamas began touring and teaching in the West, which would eventually result in The Foundation for the Preservation of the Mahayana Tradition. Lama Yeshe passed away in 1984.
About Osel
In 1986, when Osel was just over one year old, His Holiness the Dalai Lama confirmed Lama Zopa Rinpoche's observations that Osel, son of Lama Yeshe's students, María Torres and Francisco Hita, was the unmistaken reincarnation of FPMT's founder, Lama Yeshe. Osel was enthroned in March 1987 at Tushita Retreat Center in Dharamsala, India.

In 1991, at the age of seven, Osel began his monastic education at Sera Je Monastery in southern India where he simultaneously received private tutoring in Western subjects. He continued his studies there until 2003, when he relocated to Victoria, British Columbia, to engage in a traditional Western education.
Since 2010, Osel has been offering talks various FPMT centers offering around the world. He led a pilgrimage in India and Nepal in 2015 and organized a charitable organization to help provide relief and rebuild Nepal following the April 2015 earthquake.
In September 2017 Osel welcomed his son Tenzin Norbu into the world.
In 2018 Osel gave talks at various FPMT centers in Europe, including Instituto Lama Tsong Khapa, Italy, and Jamyang, Spain and Brazil. Osel also met and spent time with Lama Zopa Rinpoche in Madrid, Spain.
In 2019, Osel taught in FPMT centers in California and Florida and attended teachings with Lama Zopa Rinpoche at Institut Vajra Yogini, France, and spent time with with Rinpoche when he visited Osel Ling, Spain.
---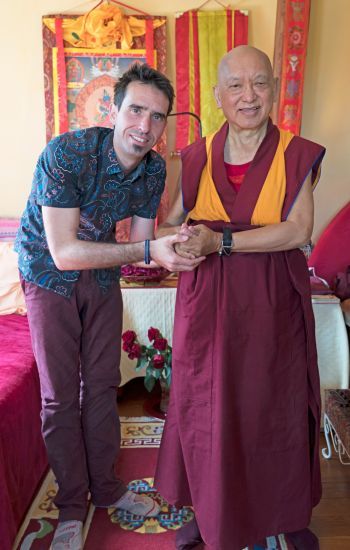 Latest News
11th February 2020
FPMT International Office wishes Tenzin Ösel Hita a very happy birthday and a long, healthy life. May his beneficial activities flourish and wishes come instantly into fruition! Tenzin Ösel Hita, the recognized reincarnation of FPMT founder Lama Yeshe, turns 35 …
---

Public Talks & Other Media
You can find public talks and other video content of Osel on the Lama Yeshe Wisdom Archive's Youtube channel and FPMT's video archive for Osel.
Below are further resources, including books, photos, documentaries and articles that may be of interest:
Big Love Fund

The Big Love Fund was established to provide financial resources to support the educational endeavors of Osel. You are welcome to contribute any amount to this fund: