Ongoing Pujas for the Success of FPMT and All Beings
The Puja Fund was established by Lama Zopa Rinpoche to provide resources for pujas, prayers, and practices to be sponsored on the four great Buddha multiplying days (when merit is multiplied by 100 million) and dedicated to the long life of His Holiness the Dalai Lama; to the success of all the FPMT centers, projects, services, students, benefactors and those serving the organization in any way; as well as all beings.
The practices are done by up to 15,650 ordained Sangha and offerings are made to each in appreciation of their time and service. On these holy days the merit of any action is multiplied by 100 million — so this is not only an incredible support to the individual monks and nuns, it also is a way to invest in the monasteries and nunneries where the pujas and practices are offered. 
Additionally, monthly and annual offerings are organized for powerful holy objects in Nepal, Tibet, and India. These pujas and practices are a direct and important investment in FPMT's current and future successes.
---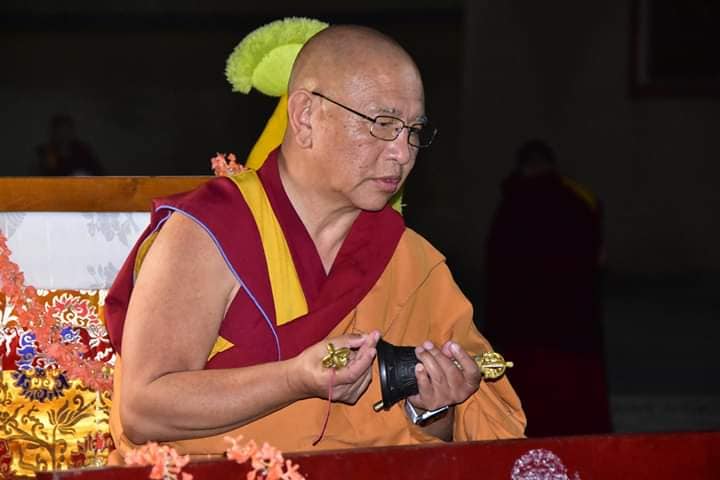 Latest News
13th March 2020
Recently Lama Zopa Rinpoche advised on particular pujas for those suffering due to the coronavirus. According to Rinpoche's advice: a wrathful fire puja was offered by Jhado Rinpoche in South India at Sera Je Monastery, Hayagriva tsog kong was offered …
---
The merit that is created from all these pujas is also your merit. So you can dedicate all these merits to having realizations and to achieve enlightenment.
Global Puja Fund Practices
The extensive range of practices and pujas that are offered in India, Nepal and around the world through the Puja Fund, for the benefit of the FPMT organization, is astounding. One of activities includes offering gold to the holy Jowo Buddha statue in Tibet, as well as offering new brocade parasols above the two great stupas in Nepal.  As Charitable Projects Coordinator, Ven. Holly Ansett, recently commented, "It is like Rinpoche has taken on the personal responsibility to care for so many holy objects in the world on behalf of FPMT." Offering these pujas and practices to holy objects and Sangha, on behalf of all FPMT centers, projects and services, is one way of creating an incredible amount of merit and in this way this can help the FPMT organization achieve its goals which stretch far into the future for the benefit of all.
Practices and Pujas Offered on the Four Buddha Days
Losar (Tibetan New Year and the 15 days of miracles)
Saka Dawa (Day 15 of Month 4: Lord Buddha's birth, enlightenment and parinirvana)
Chokhor Duchen (Day 4 of Month 6, commemorating  Lord Buddha's first teaching)
Lha Bab Duchen (Buddha's Descent from Tushita)
Practices and Pujas Offered Monthly
All of the pujas and practices are offered on auspicious days of the Tibetan calendar.  On these days, virtuous karma is increased as much as 100 million times. During all the pujas Sangha read extensive dedications prepared by Lama Zopa Rinpoche, and offer the merit to the long life of His Holiness the Dalai Lama, and to the removal of obstacles to all of FPMT's Dharma activities. Merit is also dedicated to FPMT students, benefactors of every FPMT center, service and project, as well as their families, to all who have passed away, and specifically to the benefactors of the FPMT Puja Fund.
So far, these offerings and pujas have not been publicized much, but I would like to make it known so that other people can participate in making these extensive offerings. The offering to all these monasteries happen continuously, every year, every month.  My idea is for these offerings and pujas to continue forever or for as  long as the monasteries exist. Please if you make offerings, please think in this way and dedicate and you can also remember on the actual day that the pujas are happening, rejoice and dedicate. This is the best business, the best way to create most extensive merit.


---
Support to Sangha and Monasteries
The sponsorship of these pujas also helps support the monasteries and nunneries involved, as well as the Sangha offering the prayers. The annual expense for the pujas is over $85,000. Up until now, Lama Zopa Rinpoche has happily covered nearly all these costs. Now you can join Rinpoche in sponsoring these important and beneficial pujas.
Ven. Roger Kunsang, FPMT's CEO, recently commented, "It is really quite an inspiring list [of pujas offered] and tens of thousands of Sangha are involved. They are all disciples of the one Guru so the merit is vast. You can't get enough zeros on the biggest calculator [to show how much merit]!"
By contributing to the Puja Fund, and making your own dedications and offerings, you become part of the incredible continuous practice of prayers offered by thousands of monks and nuns around the world for the benefit of all.
The annual cost of this fund is US$85,000
---
How Can I Make a Donation?
You can also send a check in US dollars payable to FPMT Inc. and write "Puja Fund" on the memo line.
FPMT Inc.
1632 SE 11th Avenue
Portland, OR 97214-4702
USA
The Puja Fund is a project of FPMT Inc. and is administered by FPMT International Office located in Portland, Oregon, United States. All donations made to this fund are tax-deductible within the United States in accordance with IRS Code article 501(c)(3) to the extent allowed by law.
For more information please contact: Charitable Projects Coordinator.