News / Media

*If a menu item has a submenu clicking once will expand the menu clicking twice will open the page.

Education

*If a menu item has a submenu clicking once will expand the menu clicking twice will open the page.

Projects

*If a menu item has a submenu clicking once will expand the menu clicking twice will open the page.

FPMT

True religion should be the pursuit of self-realization, not an exercise in the accumulation of facts.

Lama Thubten Yeshe

*If a menu item has a submenu clicking once will expand the menu clicking twice will open the page.

Shop

The Foundation Store is FPMT's online shop and features a vast selection of Buddhist study and practice materials written or recommended by our lineage gurus. These items include homestudy programs, prayers and practices in PDF or eBook format, materials for children, and other resources to support practitioners.

Items displayed in the shop are made available for Dharma practice and educational purposes, and never for the purpose of profiting from their sale. Please read FPMT Foundation Store Policy Regarding Dharma Items for more information.

Ongoing Pujas for the Success of FPMT and All Beings
The Puja Fund was established by Lama Zopa Rinpoche to provide resources for pujas, prayers, and practices that are sponsored on the four great Buddha multiplying days (when merit is multiplied by 100 million) and dedicated to the long life of His Holiness the Dalai Lama; to the success of all the FPMT centers, projects, services, students, benefactors and those serving the organization in any way; as well as all beings.
The practices are done by up to 15,650 ordained Sangha and offerings are made to each in appreciation of their time and service. On these holy days the merit of any action is multiplied by 100 million — so by making offerings to support the individual monks and nuns and supporting the the monasteries and nunneries where the pujas and practices are offered, this is an incredible way to create merit.

Additionally, monthly and annual offerings of saffron, robes, umbrellas and gold are organized for powerful holy objects in Nepal, Tibet, and India. These pujas and practices are a direct and important investment in FPMT's current and future successes.
The merit that is created from all these pujas is also your merit. So you can dedicate all these merits to having realizations and to achieve enlightenment.

Global Puja Fund Practices
The extensive range of practices and pujas (listed below) that are offered in India, Nepal and around the world through the Puja Fund, is astounding. Offering these pujas and practices to holy objects and Sangha, on behalf of all FPMT centers, projects and services, is one way of creating an incredible amount of merit and in this way this can help the FPMT organization achieve its goals which stretch far into the future for the benefit of all.
So far, these offerings and pujas have not been publicized much, but I would like to make it known so that other people can participate in making these extensive offerings. The offering to all these monasteries happen continuously, every year, every month. My idea is for these offerings and pujas to continue forever or for as long as the monasteries exist. Please if you make offerings, please think in this way and dedicate and you can also remember on the actual day that the pujas are happening, rejoice and dedicate. This is the best business, the best way to create most extensive merit.
Offerings on the Four Buddha Days
Please see below details of the vast offerings for the merit-multiplying days of Losar, Sakadawa, Chokhor Duchen and Lhabab Duchen. You can contribute to these offerings and the ongoing activities of the Puja Fund at the end of any tab.

Monthly Practices

These monthly practices and pujas are dedicated for His Holiness the Dalai Lama, Lama Zopa Rinpoche, for the success of all FPMT's Dharma activities, FPMT students, benefactors of centers, projects and their families, to all who have passed away, and to the benefactors of the Puja Fund. Every full moon, and Tibetan 8th and 29th days you can remember these practices are being performed. This is something to rejoice in, to mentally offer and dedicate towards and also something you can participate in by donating any amount… How amazing!
Medicine Buddha Puja

Every month on the Tibetan 8th day, the Puja Fund sponsors the 2,000 monks of Sera Mey Monastery to offer Medicine Buddha puja. The Puja Fund offers 20 rs, tea and bread to each of the 2,000 monks performing the puja as well as the cost of light offerings and torma offerings for the puja.



Most Secret Hayagriva Puja

Every month on the Tibetan 29th day, an important day to offer protector pujas, The Puja Fund sponsors about 40 of the most senior monks of Sera Je Monastery, who specialize in the practice of Most Secret Hayagriva, to offer the Extensive Most Secret Hayagriva puja (Hayagriva Tsog Kong). This is an all day puja with an elaborate torma offering (pictured above) and extensive prayers and meditation. 150 rs is offered to each monk offering this puja.
Offerings to Boudhanath and Swayambunath Stupas

Every month, on the full moon, the Puja Fund sponsors offerings to the holy Boudhanath and Swayambunath Stupas in Nepal. Offerings of white wash, four giant saffron flower petals and the best quality cloth to the umbrellas at the pinnacles are made to the Boudhanath and Swayambunath stupas in Nepal every month on the full moon and also on Buddha Days when merit is multiplied 100 million times. Tremendous thanks to Kopan Monastery who arrange this monthly.
Offering Robes and Gold to Buddha Statues

Every month on the full moon the Puja Fund sponsors the offering of gold for the entire holy body and robes to the Jowo Buddha statue in Tibet and robes are offered to the Buddha statue in the Mahabodhi Temple in Bodhgaya. During the robe offering in Bodhgaya, students and Sangha from Root Institute offer prayers including verses like this from the Nyung nä Sadhana:

In order to purify my mind, I offer an exquisite precious garment,
Multicolored like Indra's variegated bow,
That when touched becomes the cause of bliss
May I be adorned with the holy garment of patience.

OM VAJRA VASTRAYE AH HUM SVAHA

Support to Sangha and Monasteries
The sponsorship of these pujas also helps support the monasteries and nunneries involved, as well as the Sangha offering the prayers.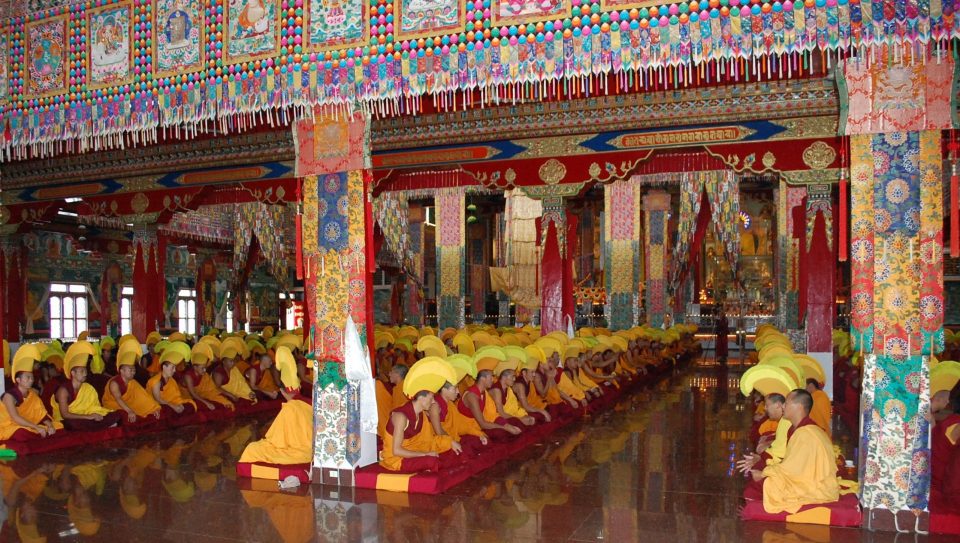 Budget
The annual expense for the pujas is over $85,000. Up until recently, Lama Zopa Rinpoche has happily covered nearly all these costs. Now you can join Rinpoche in sponsoring these important and beneficial pujas.
Ven. Roger Kunsang, FPMT's CEO, recently commented, "It is really quite an inspiring list [of pujas offered] and tens of thousands of Sangha are involved. They are all disciples of the one Guru so the merit is vast. You can't get enough zeros on the biggest calculator [to show how much merit]!"
By contributing to the Puja Fund, and making your own dedications and offerings, you become part of the incredible continuous practice of prayers offered by thousands of monks and nuns around the world for the benefit of all.
———— Puja Fund News & Updates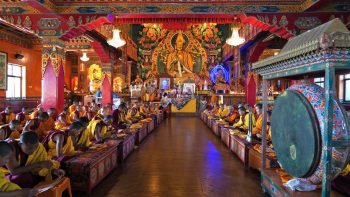 Latest News
29th October 2020
Following the advice of Rangjung Neljorma Khadro Namsel Drolma (Khadro-la), a Most Secret Hayagriva tsog kong puja was offered at Kopan Monastery in Nepal on October 26 for Lama Zopa Rinpoche's long life. In addition, this puja was dedicated for …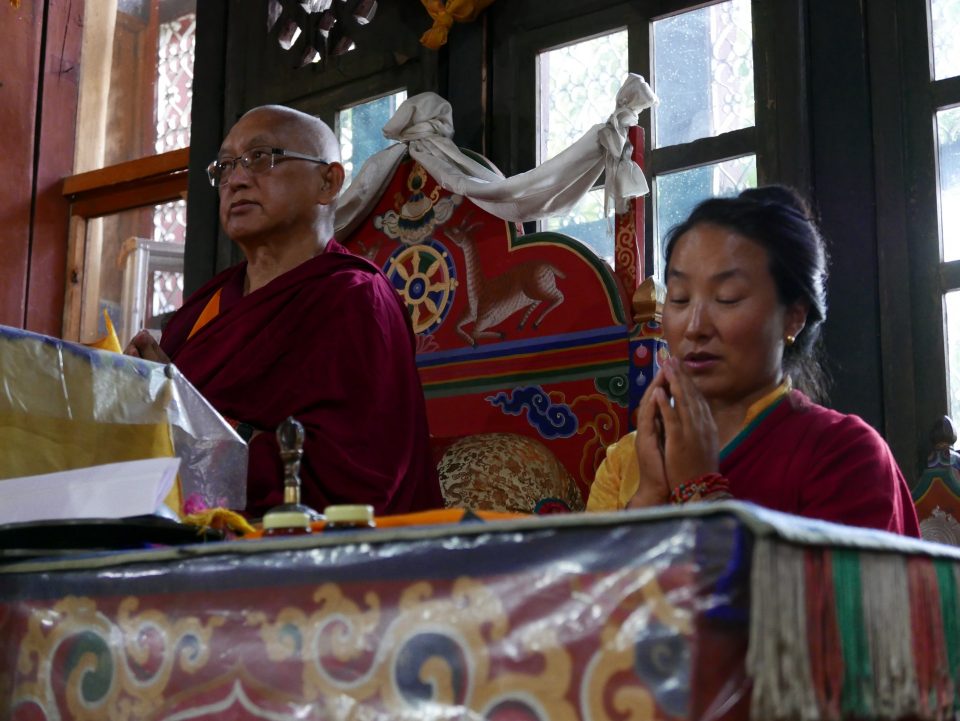 Offer Your Compassionate Support


The Puja Fund is a project of FPMT Inc. and is administered by FPMT International Office located in Portland, Oregon, United States. All donations made to this fund are tax-deductible within the United States in accordance with IRS Code article 501(c)(3) to the extent allowed by law.
For larger donations, wire transfers, or check donations, contact FPMT Donor Services.
For questions about the Social Services Fund activities, please contact the Charitable Projects Coordinator.
If you follow self-cherishing thoughts, those thoughts become your identity. Then anger, pride, the jealous mind – all this negative emotional stuff arises. When you let go of the I and cherish others, negative emotional thoughts do not arise. That's very clear. Anger does not arise at those you cherish.
Lama Zopa Rinpoche