News / Media

*If a menu item has a submenu clicking once will expand the menu clicking twice will open the page.

Education

*If a menu item has a submenu clicking once will expand the menu clicking twice will open the page.

Projects

*If a menu item has a submenu clicking once will expand the menu clicking twice will open the page.

FPMT

Buddhist meditation doesn't necessarily mean sitting cross-legged with your eyes closed. Simply observing how your mind is responding to the sense world can be a really perfect meditation and bring a perfect result.

Lama Zopa Rinpoche

*If a menu item has a submenu clicking once will expand the menu clicking twice will open the page.

Shop

The Foundation Store is FPMT's online shop and features a vast selection of Buddhist study and practice materials written or recommended by our lineage gurus. These items include homestudy programs, prayers and practices in PDF or eBook format, materials for children, and other resources to support practitioners.

Items displayed in the shop are made available for Dharma practice and educational purposes, and never for the purpose of profiting from their sale. Please read FPMT Foundation Store Policy Regarding Dharma Items for more information.
One of Lama Zopa Rinpoche's Vast Visions is to build 1,000 statues of Maitreya Buddha around the world. 
Within this Vast Vision of Rinpoche are the two Maitreya Projects, which were established to build magnificent Maitreya statues in Bodhgaya and Kushinagar, India. The Maitreya Project also created two 24-foot Maitreya statues, now residing at Land of Medicine Buddha in California and on the Maitreya Project land in Kushinagar.
Additionally, almost 100 life-size Maitreya statues have been created, of which Lama Zopa Rinpoche sponsored and offered 26 statues to FPMT centers. Lama Zopa Rinpoche wrote a letter in February 2014 explaining how this vision came about, the focus of each Maitreya Project, and the benefits. 

The minimum size of the 1,000 statues should be 6 feet. Within the 1,000 statues, this includes the statue being built in Kushinagar and the statue being built in Bodhgaya. My aim is that the large statue in Kushinagar will last a minimum of 1,000 years. That means that for every day for at least 1,000 years, infinite sentient beings will receive unbelievable benefit, the causes for enlightenment. Another special thing about contributing to Maitreya, whether it be money or time or energy, is that it makes a connection with Maitreya, and the result is that one becomes a direct disciple of Maitreya Buddha when Maitreya returns to manifest enlightenment as Shakyamuni Buddha did.
Maitreya Statues Completed/In Progress

Maitreya Project Bodhgaya
100 life-sized statues from Maitreya Project (26 have been offered to FPMT centers by Lama Zopa Rinpoche)

Two 24-foot statues from Maitreya Project (one is at Land of Medicine Buddha in California, the other is on Maitreya Project land in Kushinagar)
2 story statue built in a Monastery in Tibet
1 story statue built in a Nunnery in Tibet


Maitreya Buddha Project Kushinagar

Current efforts are focused on the project in Kushinagar. Please read about Lama Yeshe's early inspiration, the social and economic vision for the local communities in India, and initial stages of the project below.
Why Buddha Maitreya & Why Kushinagar?
The Maitreya Project was the inspiration of its founder, Lama Thubten Yeshe following his first visit back to Tibet in the early 1980's. In the Buddhist pantheon, the historical Buddha Shakyamuni is considered the fourth of eventually 1,000 Buddhas who will manifest on this earth and each of whom will initiate a cycle of spiritual teachings. Maitreya Buddha is predicted to be the fifth Buddha who will appear on earth. According to ancient textual reference, Kushinagar is the place where Maitreya Buddha will manifest.
Building large statues of Maitreya Buddha has traditionally been considered auspicious in order to reduce the period of "spiritual darkness" when Shakyamuni Buddha's teachings have disappeared and before the appearance of Maitreya Buddha whose teachings then will again provide the means for spiritual development to people of the time.
Read Who is Maitreya Buddha by Lama Yeshe.
Social Programs & Economic Impact
The statue itself is not the main purpose of the project. The purpose is to bring as much benefit as possible, for as long as possible – spiritually, through education and health care, and economically, through the direct and indirect creation of employment opportunities. Many will have the chance to establish a spiritual connection with the future Maitreya Buddha by visiting, venerating, or knowing about, the project. Economically, the Maitreya Buddha Project will attract many visitors from India, other parts of Asia, and the world. The project aims to provide education based on compassion and inner values. The project will provide social services including a mobile clinic network with, in time, a hospital as its base.
Already, the Maitreya Buddha Project Kushinagar has initiated a blanket distribution project which supports over 100 people at risk in the area, distributed mosquito nets, and sponsored a mobile medical clinic.

Initial Stages
The project to build a Maitreya Buddha statue in Kushinagar is overseen by the Maitreya Project Trust. After many years of work, artistic and engineering renderings are complete. In 2016, the land agreement between the MPT and the Uttar Pradesh government was signed, and the project built a fence around the project's land. Since then, there has been a feng shui evaluation to be included in the project's master plan, and a ground breaking ceremony was performed by senior geshes and Sangha.

The site adjoins the Parinirvana Temple which denotes the place where Shakyamuni Buddha passed into Parinirvana. The site also adjoins the Ramabhar Stupa which denotes the location of Shakyamuni Buddha's cremation stupa. This is indeed one of the holiest places for Buddhist pilgrimage.
——— Maitreya Buddha Kushinagar Project News & Updates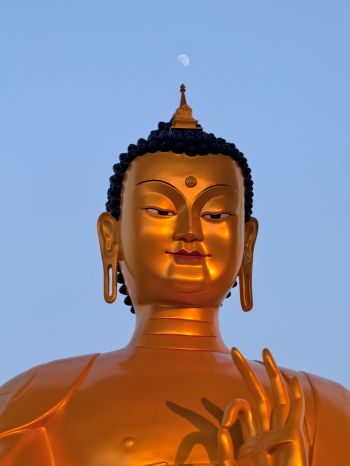 14th December 2019
The creation of Holy Objects for World Peace is an important aspect of Lama Zopa Rinpoche's charitable work as carried out by FPMT Inc. More specifically, Rinpoche envisions the creation of many statues of Maitreya Buddha around the world. Currently, …
Offer Your Compassionate Support
The Buddha Maitreya Kushinagar Project is a project of FPMT Inc. and is administered by FPMT International Office located in Portland, Oregon, United States. All donations made to this fund are tax-deductible within the United States in accordance with IRS Code article 501(c)(3) to the extent allowed by law.
For larger donations, wire transfers, or check donations, contact FPMT Donor Services.
For questions about the Social Services Fund activities, please contact the Charitable Projects Coordinator.