News/Media

*If a menu item has a submenu clicking once will expand the menu clicking twice will open the page.

Study & Practice

*If a menu item has a submenu clicking once will expand the menu clicking twice will open the page.

Projects

*If a menu item has a submenu clicking once will expand the menu clicking twice will open the page.

FPMT

When others insult, rebuke and speak unpleasant words to us, although an intolerable pain arises like a thorn at the heart, if we comprehend the teachings then we can recognize the essenceless nature of these words which resemble an echo. So just as when an inanimate object is scolded, we will experience not the slightest mental turmoil.

His Holiness the Dalai Lama

*If a menu item has a submenu clicking once will expand the menu clicking twice will open the page.

Shop

The Foundation Store is FPMT's online shop and features a vast selection of Buddhist study and practice materials written or recommended by our lineage gurus. These items include homestudy programs, prayers and practices in PDF or eBook format, materials for children, and other resources to support practitioners.

Items displayed in the shop are made available for Dharma practice and educational purposes, and never for the purpose of profiting from their sale. Please read FPMT Foundation Store Policy Regarding Dharma Items for more information.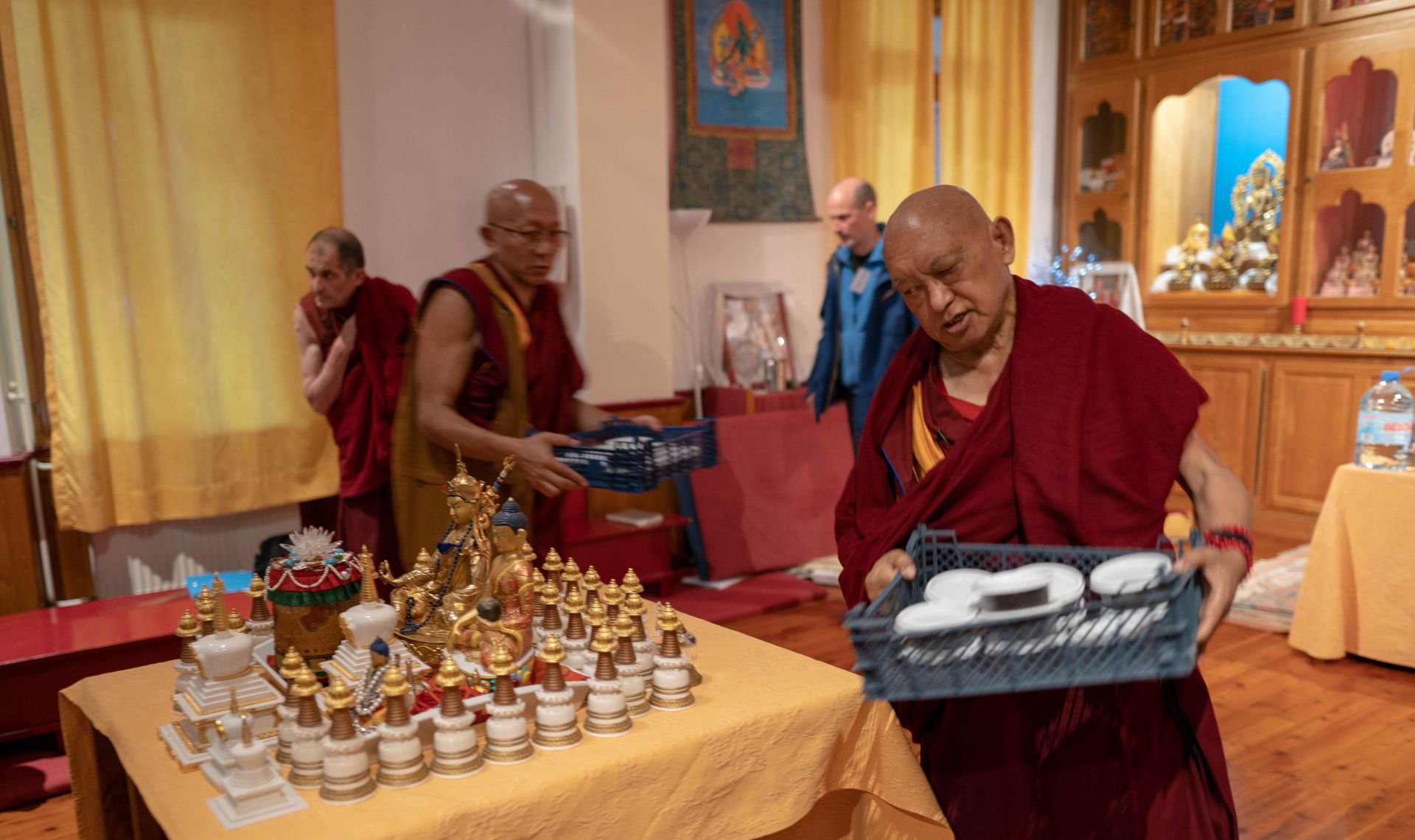 Where there is a mind, there are feelings such as pain, pleasure, and joy. No sentient being wants pain; instead all want happiness. Since we all share these feelings at some basic level, we as rational human beings have an obligation to contribute in whatever way we can to the happiness of other species and try our best to relieve their fears and sufferings.
The Animal Liberation Fund supports ongoing animal liberations offered by Sangha and students which include extensive prayers and dedications made for Lama Zopa Rinpoche, his gurus, all sponsors of this fund, all beings who are sick or face an untimely death, as well as many specific dedications requested by the FPMT community. Supporting animal liberations creates the cause for long life for the animals, for oneself, and for those to whom the prayers are dedicated.
There are enormous benefits generated from supporting animal liberations and prayers for long life. The recipients of benefit are the creatures being saved, blessed and released during the liberations; those who support the animal liberation practice; and those to whom the animal liberations are dedicated.
Lama Zopa Rinpoche explains:
"By doing prayers and chanting powerful mantras for the animals, they receive a higher rebirth and liberation. This practice purifies immediately the oceans of samsaric suffering."
"For the person who liberates animals, or whoever wants to dedicate the merit to those with life obstacles, this practice helps them to obtain long life. Even if you don't expect it, the karma will cause you to have a long life."
Liberations, Blessings, and Sanctuaries

The fund supports weekly animal liberations and extensive dedications offered by Sangha at the residences of Lama Zopa Rinpoche. When funds allow, additional animal liberations in Singapore and Hong Kong are supported, as well as efforts to save the lives of animals at animal sanctuaries in Nepal, India, and elsewhere.
Lama Zopa Rinpoche has performed many animal liberations and blessings, and has offered detailed advice on how to perform blessings and benefit animals and insects, found below.
Due to the kindness of sponsors to the Animal Liberation Fund, we are able to liberate approximately 75,000 sentient beings every year. Additionally, our dedications list has included over 8,000 people.
Weekly Liberations
Lama Zopa Rinpoche has requested the Sangha at his house to do the practice of animal liberation every week dedicated to anyone who is sick or having life obstacles.
Each week the Sangha liberate up to 1,000 animals with the animal liberation practice, taking the animals around the stupa or holy objects at Rinpoche's house, reciting mantras and blessing them with mantra water before they are carefully liberated in a safe place.
Blessing Lakes
Lama Zopa Rinpoche has on a number of occasions blessed lakes surrounding Amitabha Buddha Pure Land in Washington, USA. Rinpoche designed special prayer flags and set up a number of holy objects to be used on a raft for the blessings, and offered blessed food for the lake-bound beings. Rinpoche has asked the local Sangha to continue regular lake blessings in the area using some of the holy objects on the raft.
Read stories about some of the lake blessings here, and here.
Here are some ideas for blessing oceans, seas, lakes and other bodies of water.
Blessing Insects and Small Animals
In October 2016, Lama Zopa Rinpoche responded to a student's question about what to do when finding dead insects. Rinpoche replied in detail how he and Sangha members work to benefit insects, birds, and other small animals:
"Thank you for your kind email. With respect to dead insects, the main thing you can do to benefit them is to recite the mantra of Compassion Buddha (OM MANI PADME HUM), Stainless Pinnacle mantra, Stainless Lotus Pinnacle mantra, the short Namgyalma mantra, and the Five Powerful Deities mantras.
After reciting a few times—or it can be fifteen times, twenty times, or one mala of each mantra, whatever you can—blow over the dead body of the insect to purify its negative karma and obscurations collected since beginningless rebirths. Then, visualize that it generates into the deity of the mantra you recited…" Read the full advice.
Supporting Other Liberations and Sanctuaries
The Animal Liberation Fund has supported liberations offered by FPMT communities in Singapore and Hong Kong. The Fund has also sponsored the ongoing care of vulnerable animals at the Animal Liberation Sanctuary, managed by Kopan Monastery in Nepal, the MAITRI Charitable Trust in Bodhgaya, India, and sanctuaries elsewhere.
Animal Liberation Resources
The FPMT Foundation Store offers teachings and practices from Lama Zopa Rinpoche about how to benefit animals, including the animal liberation practice.
FPMT Education Services has complied a large collection of advice and practices from Lama Zopa Rinpoche for benefiting animals.
To send names for dedications, please email: Holly Ansett
Photos and Video
We have collected many animal liberation photos, and videos of Lama Zopa Rinpoche leading animal liberations and blessings which you can view here.
——— Animal Liberation Fund News & Updates
Lama Zopa Rinpoche compiled a list of mantras and buddhas' names that are powerful for benefiting animals. We are pleased to make this available in booklet form in Wish-fulfillment for all Animals: Their Happiness and Liberation—Powerful Buddha Names and Mantras …
Read more »
Budget
The annual budget for the Animal Liberation Fund is US$10,000. Any excess funds raised go directly to supporting more animal liberations which include extensive prayers and dedications for the long life of others.
Offer Your Compassionate Support
The Animal Liberation Fund is a project of FPMT Inc. and is administered by FPMT International Office located in Portland, Oregon, United States. All donations made to this fund are tax-deductible within the United States in accordance with IRS Code article 501(c)(3) to the extent allowed by law.
For larger donations, wire transfers, or check donations, contact FPMT Donor Services.
For questions about the Social Services Fund activities, please contact the Charitable Projects Coordinator.
We are not compelled to meditate by some outside agent, by other people, or by God. Rather, just as we are responsible for our own suffering, so are we solely responsible for our own cure. We have created the situation in which we find ourselves, and it is up to us to create the circumstances for our release. Therefore, as suffering permeates our life, we have to do something in addition to our regular daily routine. This "something" is spiritual practice or, in other words, meditation.
The Purpose of Meditation
Lama Yeshe Wisdom Archive
Lama Zopa Rinpoche