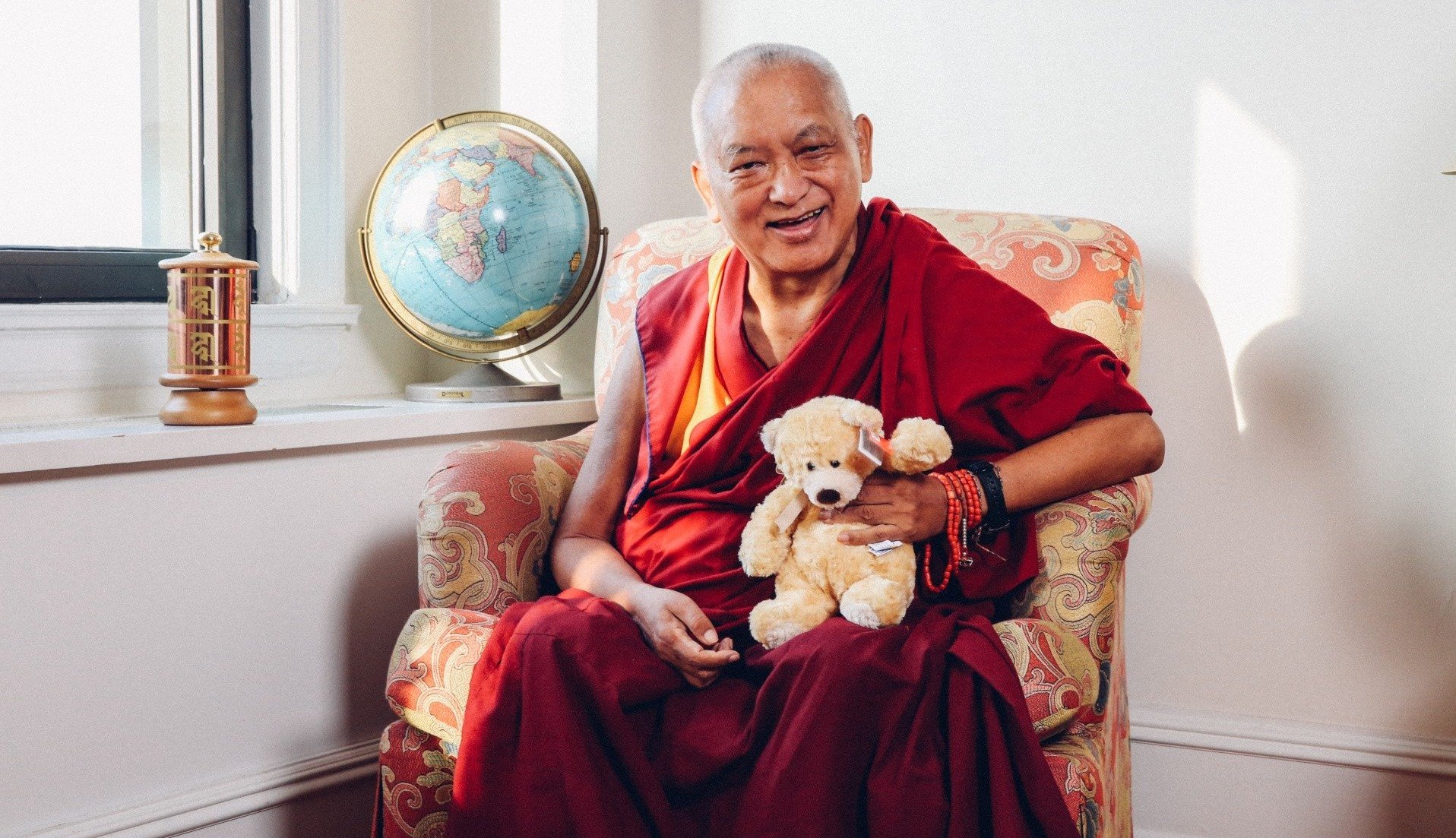 Lama Zopa Rinpoche's Vast Visions for FPMT
I am just expressing here a general plan for FPMT. There is no limit of time when to complete. I also don't mean for the centers to do this, I don't mean to be giving a burden to the centers. We need to have an organizer for each project. We should set this up so it is professional.
Origin of the Vast Visions
In May 2007, Lama Zopa Rinpoche was in retreat at Kachoe Dechen Ling in Northern California. During one morning session, Rinpoche began jotting down some of his ideas and wishes for the future of the FPMT organization onto a stack of small, colored Post-it notes. During the afternoon, Rinpoche explained these ideas to Ven. Roger Kunsang, Rinpoche's assistant and CEO of FPMT, and Ven. Holly Ansett, assistant to Ven. Roger. These visions from Rinpoche are in addition to what FPMT is already accomplishing due to work of FPMT's most precious founder, Lama Thubten Yeshe.
The Post-it notes and Rinpoche's subsequent commentary came to be collectively regarded as the framework for Rinpoche's long-term "Vast Vision" for FPMT.
You can read Rinpoche's complete commentary on these visions. At the conclusion, Rinpoche offered a final, "most essential practice."
Rinpoche's Vast Visions fall into four general categories:
Please read details of the Vast Visions below and learn how you can become a part of making them a reality!
Offering Service to His Holiness the Dalai Lama
[I would like] for FPMT to offer service to His Holiness the Dalai Lama as much as possible and to be able to fulfill His Holiness' wishes. This is the highest priority for the organization.
Lama Zopa Rinpoche stressed that the organization supporting and offering service to His Holiness is "the quickest and most vast way of benefiting sentient beings."

Holy Objects for World Peace
My wish is for FPMT to build many holy objects everywhere, as many as possible. Making it so easy for sentient beings to purify their heavy negative karma and making it so easy for sentient beings to create extensive merit. Which makes it so easy to achieve the realizations of the path and so easy to achieve liberation and enlightenment.
Below are Rinpoche's visions for the creation of hundreds of thousands of holy objects across the globe.
Supporting Practice and Realizations
Anybody who dedicates their life to achieving lam-rim realizations with the goal to liberate numberless beings from the oceans of samsaric suffering and to bring to enlightenment, this is what I regard as the most important thing in the world.
Below are Rinpoche's Vast Visions for supporting deep Dharma practice and fostering realizations around the world.
Social Services
[It is good for FPMT] to benefit extensively other sentient beings by offering various social services, such as those that bring loving kindness and peace to youth using Universal Education methods, religious interfaith activities which bring peace and happiness and extensively benefit others by spreading Dharma.
Rinpoche's Vast Visions for social service include supporting a variety of secular education and healthcare programs, and benefiting animals.
The Most Essential Practice
The conclusion is for all the people to practice the lam-rim, which is the heart of Dharma. Especially to try to put all the effort to live with bodhichitta motivation, in particular to have kindness to others, which is the most essential practice. Aiming to have the realization bodhichitta as our main goal, of course based on guru devotion.
Are You Inspired to Be Part of Lama Zopa Rinpoche's Vast Visions?
As Rinpoche mentioned, the Vast Visions are ambitious and may take many lifetimes to actualize. They also are still evolving and being clarified. Tremendous thanks and gratitude to all who have helped to begin to actualize Rinpoche's Vast Visions for the FPMT organization.
To take part in one of the Vast Visions, please explore the various projects which have been established to support some of these visions. Supporting these projects helps actualize Rinpoche's wishes, and as Rinpoche commented, many people getting involved at a smaller level makes large projects possible.
Lama Yeshe: The Origins of FPMT
Why have we established the FPMT? Why are we establishing these facilities all over the world? I think we are clean clear as to our aim – we want to lead sentient beings to higher education. We are an organization that gives people the chance to receive higher education. We offer people what we have: the combined knowledge of Buddha's teachings and the modern way of life. Our purpose is to share our experiences of this.
Read more from Lama Yeshe about the origins of FPMT
Learn more about specific Vast Visions at the FPMT Charitable Projects Homepage