Advice for Death and Dying
Homestudy Program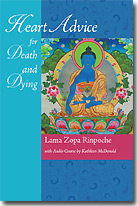 In our busy modern lives, we may not give much thought to death. We fear that thinking about death will take the joy out of living. But in reality, when we actively think about death and prepare for it, we find peace, fulfillment, and happiness in our current lives and our fear of death disappears.
The Tibetan Buddhist master Lama Zopa Rinpoche has given profound and accessible teachings on death and dying for many years. Recently, he asked that these teachings be made available so that all students – beginner to advanced – have access to this most essential advice for this crucial time of transition from one life to the next. Heart Advice for Death and Dying contains Lama Zopa Rinpoche's essential advice for the time of death and for finding the deepest fulfillment in life. The MP3 disc that accompanies this book contains an audio course consisting of eleven hours of exquisite teachings and meditations on death and dying led by Venerable Sangye Khadro – a senior American teacher of Tibetan Buddhism well known for her gentle yet profound teaching style.
You may also follow this course online.
Here is a technique for making your life always happy, but not the usual kind of hallucinated happiness which is excited with desire, pride, and so on. As soon as you investigate the nature of this kind of hallucinated happiness, you discover that it is only suffering. Here we are talking about real inner peace and happiness, which bring satisfaction and fulfillment, and make your life meaningful.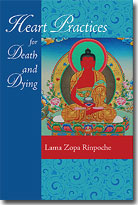 A compendium volume of Practices for Death and Dying is highly recommended for anyone following this program or anyone interested in knowing the practices to do when someone has passed away.
This book contains advice from Tibetan Buddhist master Lama Zopa Rinpoche on preparing for death and assisting others through this time, and provides a plethora of heart practices to do at the time of death, including the Medicine Buddha puja and the traditional eight prayers done in Tibetan Buddhist monasteries.
This book also contains the most powerful mantras to say for those who are dying or who have died, teachings on their precise benefits, as well as a sheet of mantras to place upon the body of one who has died.  It contains precious sutra texts to benefit the minds of those who are dying, to relieve pain, and to purify negative karma.
The essence, therefore, is to have accumulated merit and done purification in everyday life in your relationship with sentient beings; with a sincere heart, loving kindness, and compassion to have served others; and to have done the hard work to benefit them. Practicing the good heart, bodhichitta, during your life purifies so much negative karma, and it stops one from creating more. It is negative karma that makes the mind experience fear of death. And it is bodhichitta especially that stops suffering rebirths.
Contact Info
1632 SE 11th Avenue
Portland, OR 97214-4702 USA
Tel (503) 808-1588 | Fax (503) 232-0557
About FPMT
FPMT is an organization devoted to the transmission of the Mahayana Buddhist tradition and values worldwide through teaching, meditation and community service.
more...
About Buddhism
If you're new to Buddhism, please read our
Buddhism FAQ
. A place to learn about Buddhism in general, FPMT, and our Discovering Buddhism at Home series.