Heart Advice for Death and Dying
The most important practice is bodhichitta, then the five powers. Learn these things and put them into practice. You should remember the five powers every day and be ready to die on any day, because it can happen at any time. This is my advice to you regarding the fear of death.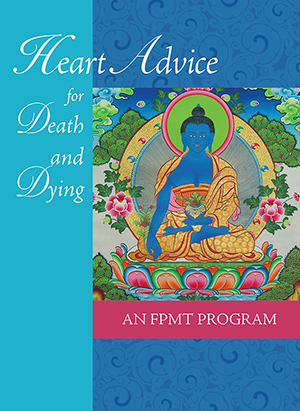 Most modern societies do an excellent job of hiding away the reality of death. When on top of this we lead a busy life, we may not give much thought to death until we actually encounter it face to face. We then find ourselves overwhelmed and traumatized by the diagnosis of a terminal illness or the loss of someone close to us. We may also fear that thinking about death will make it happen or else take the joy out of living. But, in reality, when we actively think about death and prepare for it, we find more peace, happiness, and fulfillment in our lives and our fear of death disappears.
This course sets out Lama Zopa Rinpoche's essential advice for the time of death and for making life meaningful. It also provides practical ways for thinking about and preparing for one's own and others' deaths. Students will gain confidence in facing their own death and will also be able to provide help and support to others before, during, and even after their death. 
This course is suitable for anyone, Buddhist or not, who is interested in learning more about death and dying from a Buddhist perspective. It consists of teachings, guided meditations, mindfulness practices, and many other materials to help students prepare for and experience their own and others' deaths with courage and serenity.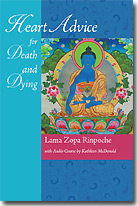 The two books Heart Advice for Death and Dying and How to Enjoy Death consist of teachings and meditations by Lama Zopa Rinpoche. They are highly recommended additional reading.
This course is available in some FPMT centers and as an online course through the FPMT Online Learning Center.