News / Media

*If a menu item has a submenu clicking once will expand the menu clicking twice will open the page.

Education

*If a menu item has a submenu clicking once will expand the menu clicking twice will open the page.

Projects

*If a menu item has a submenu clicking once will expand the menu clicking twice will open the page.

FPMT

Whatever problem one experiences if one thinks about the benefits of problems and how they are beneficial for ones own life, to develop ones mind in compassion, to develop loving kindness, patience, wisdom, and all the positive qualities for the path to liberation. By thinking of the benefits one develops this precious quality, this most healthy positive way of thinking that brings happiness and that stops you from harming yourself and stops you from harming others.

Lama Zopa Rinpoche

*If a menu item has a submenu clicking once will expand the menu clicking twice will open the page.

Shop

The Foundation Store is FPMT's online shop and features a vast selection of Buddhist study and practice materials written or recommended by our lineage gurus. These items include homestudy programs, prayers and practices in PDF or eBook format, materials for children, and other resources to support practitioners.

Items displayed in the shop are made available for Dharma practice and educational purposes, and never for the purpose of profiting from their sale. Please read FPMT Foundation Store Policy Regarding Dharma Items for more information.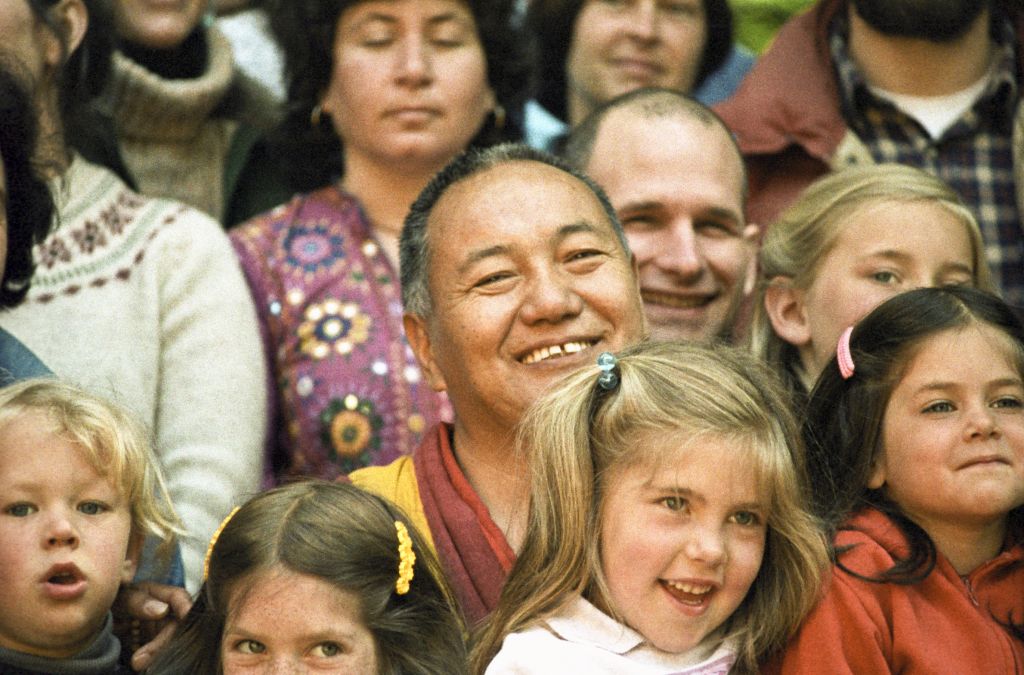 Why the FPMT Organization was Established
By Lama Thubten Yeshe

Why have we established the FPMT? Why are we establishing these facilities all over the world? I think we are clean clear as to our aim – we want to lead sentient beings to higher education. We are an organization that gives people the chance to receive higher education. We offer people what we have: the combined knowledge of Buddha's teachings and the modern way of life. Our purpose is to share our experiences of this.
We know that people are dissatisfied with worldly life, with the education system and everything else; it is in the nature of our dualistic minds to be dissatisfied. So what we are trying to do is to help people discover their own totality and thus perfect satisfaction.
Now, the way we have evolved is not through you or me having said we want to do these things but through a natural process of development. Our organization has grown naturally, organically. It is not "Lama Yeshe wanted to do it." I've never said that I want centers all over the world. Rather, I came into contact with students, who then wanted to do something, who expressed the wish to share their experience with others, and who then put together groups in various countries to share and grow with others.
Personally, I think that's fine. We should work for that. We are human beings; Buddhism helps us grow; therefore, it is logical that we should work together to facilitate this kind of education. And it is not only us lamas who are working for this. Actually, it is you students who are instrumental in creating the facilities for Dharma to exist in the Western world. True. Of course, teachers help. But the most important thing is for the students to be well educated. That is why we exist.
When we started establishing centers there was no overall plan – they just popped up randomly all over the world like mushrooms, because of the evolutionary process I've just mentioned and the cooperative conditions. Now that all these centers do exist, we have to facilitate their development in a constructive, clean-clear way; otherwise, everything will just get confused. We have to develop properly both internally and in accordance with our twentieth-century environment.
Excerpted from the full talk given by Lama Yeshe at Istituto Lama Tzong Khapa, Italy, 1983. Edited by Dr. Nicholas Ribush.


Read more about the principles of FPMT's unique Wisdom Culture.


The sun of real happiness shines in your life when you start to cherish others.
Lama Zopa Rinpoche