His Holiness the Dalai Lama
His Holiness the 14th the Dalai Lama Tenzin Gyatso, is the head of state and spiritual leader of the Tibetan people. He was born Lhamo Dhondrub on 6 July 1935, in a small village called Taktser in northeastern Tibet. Born to a peasant family, His Holiness was recognized at the age of two, in accordance with Tibetan tradition, as the reincarnation of his predecessor the 13th Dalai Lama, and thus an incarnation Avalokitesvara, the Buddha of Compassion.
It is necessary to help others, not only in our prayers, but in our daily lives. If we find we cannot help others, the least we can do is to not harm them.
His Holiness the Dalai Lama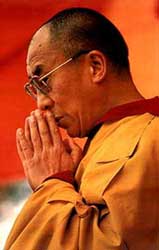 Biography of His Holiness the Dalai Lama, from the introduction of "Oceans of Wisdom"
Books and Teachings by His Holiness the Dalai Lama
Dalai Lama website – includes Schedule information, and Live and Recorded Webcasts of some of His Holiness' Teachings
His Holiness praises Lama Zopa Rinpoche
Long Life Prayer for His Holiness the Fourteenth Dalai Lama
Praise to His Holiness by Lama Zopa Rinpoche
Speeches and Letters by His Holiness the Dalai Lama, including his Nobel Prize acceptance speech and much more.