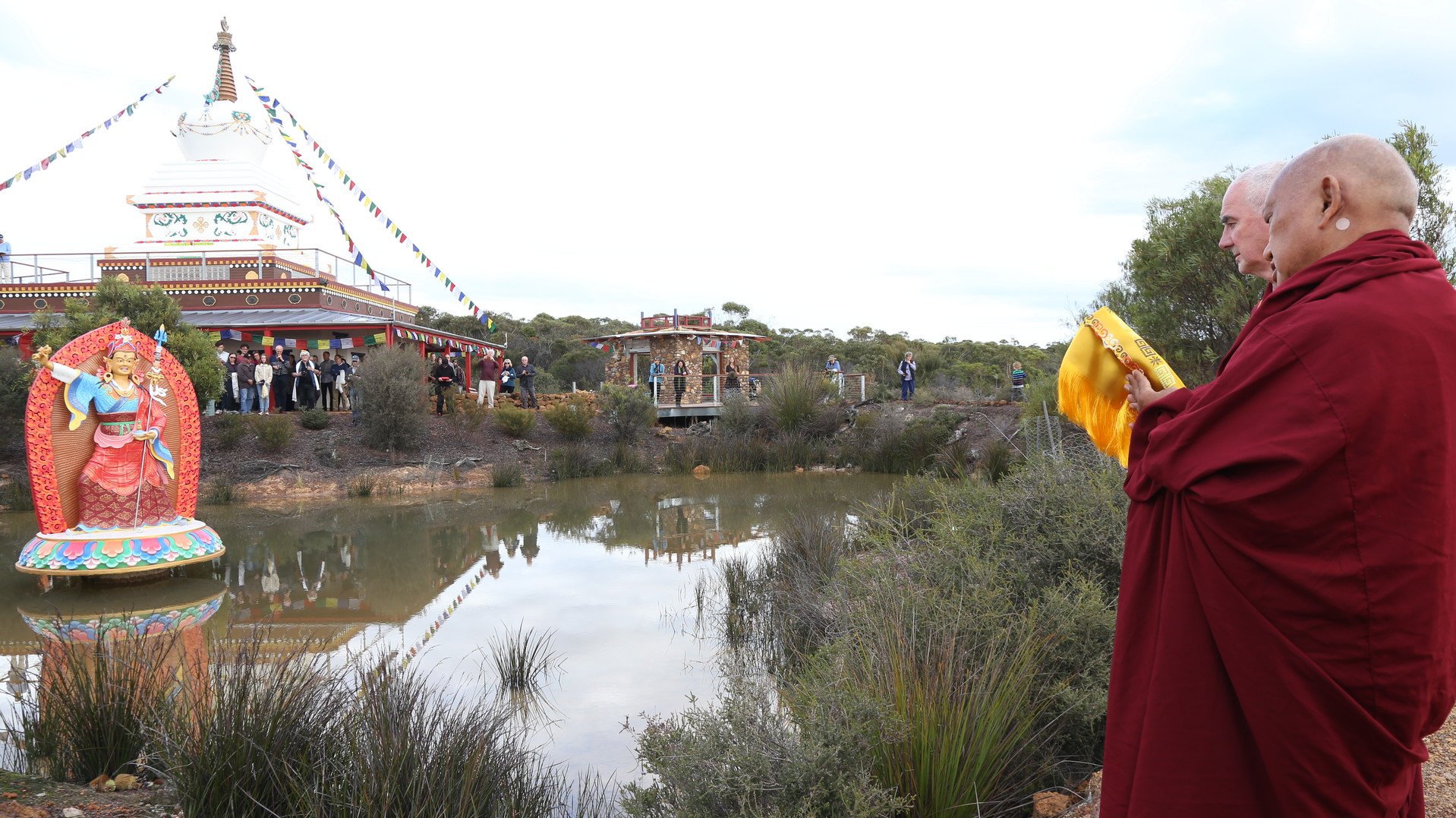 Padmasambhava Project for Peace
Building Guru Rinpoche statues will bring immeasurable benefit, peace, happiness, and freedom to the world. They will have immeasurable impact.
Building Large Statues of Padmasambhava Around the World
The Padmasambhava Project for Peace is dedicated to fulfilling Lama Zopa Rinpoche's goal of building many large statues of Padmasambhava around the world in order to create the cause for peace for all beings. To date, 27 statues have been built.
The statues sponsored by this project are built with utmost precision and care. They not only bless the environment with Padmasambhava's powerful image, but they also contribute to the local economy where they are built and preserve ancient artisan techniques.
In addition to statues, the Padmasambhava Peace Project sponsors 100,000 tsog offerings to Guru Rinpoche each year at Khachoe Ghakyil Nunnery, Nepal, where an incredible 75 feet high x 87 feet wide thangka of Padmasambhava, which resides at the nunnery, is raised for the occasion and thousands of Sangha participate in the puja.
My wish is for FPMT to build many holy objects everywhere, as many as possible. Making it so easy for sentient beings to purify their heavy negative karma and making it so easy for sentient beings to create extensive merit. Which makes it so easy to achieve the realizations of the path and so easy to achieve liberation and enlightenment.
Lama Zopa Rinpoche has compiled the many benefits of building and making offerings to Padmasambhava statues.
The Benefits of Building Padmasambhava Statues
Benefits of Guru Padmasambhava Statues
Statues Completed So Far
The 27 statues listed below have been completed with support from the Padmasambhava Project for Peace Fund:
Large statue at a Sakya Monastery in Asia
Large statue at the Great Stupa of Universal Compassion near Bendigo, Australia
Lifesized statue at Milarepa Center in Vermont, USA
(11 total) 13.5-ft and nine large statues in Lawudo, Nepal
(9 total) 70-ft statue with two consorts, each 25 ft; includes also Eight Aspects of Padmasambhava over 6 feet (2 meters) high
7-ft statue at Chandrakirti Tibetan Buddhist Meditation Centre, New Zealand
9-ft statue at De-Tong Ling Retreat Centre on Kangaroo Island, Australia
3 ft statue in Nepal which will go inside a large stupa in India (in progress)
6.5-ft statue in Spain at Osel Ling, Spain.
Statue Project in Maratika
A 45-foot tall Padmasambhava (Guru Rinpoche) statue with a 15-foot tall throne, with a gompa within the throne, is being built in Maratika, the holy place where Padmasambhava achieved immortality through his practice of Amitayus. This incredible statue will have gold face, hands, and body. The aspect of this statue is the first manifestation of the Twelve Manifestations of Padmasambhava, Gyalwey Dungdzin (Padma Gyalpo), and is Guru Rinpoche's magnetizing form.
Recently Lama Zopa Rinpoche and Khandro Kunga Bhuma offered pujas and consecrated the land where the future statue will be built.

The construction will approximately take five years, planned completion is currently estimated for 2026.
Who is Padmasambhava
Padmasambhava (Guru Rinpoche) is perhaps the most universally cherished realized being in all of Tibetan Buddhism. Padmasambhava came to Tibet from India in the 8th century and helped establish a pure lineage which is still practiced today by all four major schools of Tibetan Buddhism around the world.
Lama Zopa Rinpoche lauds Padmasambhava's contribution to humanity: "Due to Padmasambhava's great compassion, Tibetan Mahayana Buddhism flourished in Tibet and now has spread throughout the entire world. Because of that, so many people have experienced the path to enlightenment and achieved enlightenment. Due to his great compassion, the lives of infinite number of sentient beings have become meaningful."
There is a long tradition of building Padmasambhava statues in Tibet, Padmasambhava himself has said:
"Listen, beautiful one having the form of a goddess,
For those sentient beings who have not met me,
Statues of me in the future
Will become the light eliminating the darkness of ignorance.
Whoever builds such statues of me,
Which become objects of offering and so forth,
All their future lives will become meaningful
And they will establish the banner of the teachings.
——— Padmasambhava Project News & Updates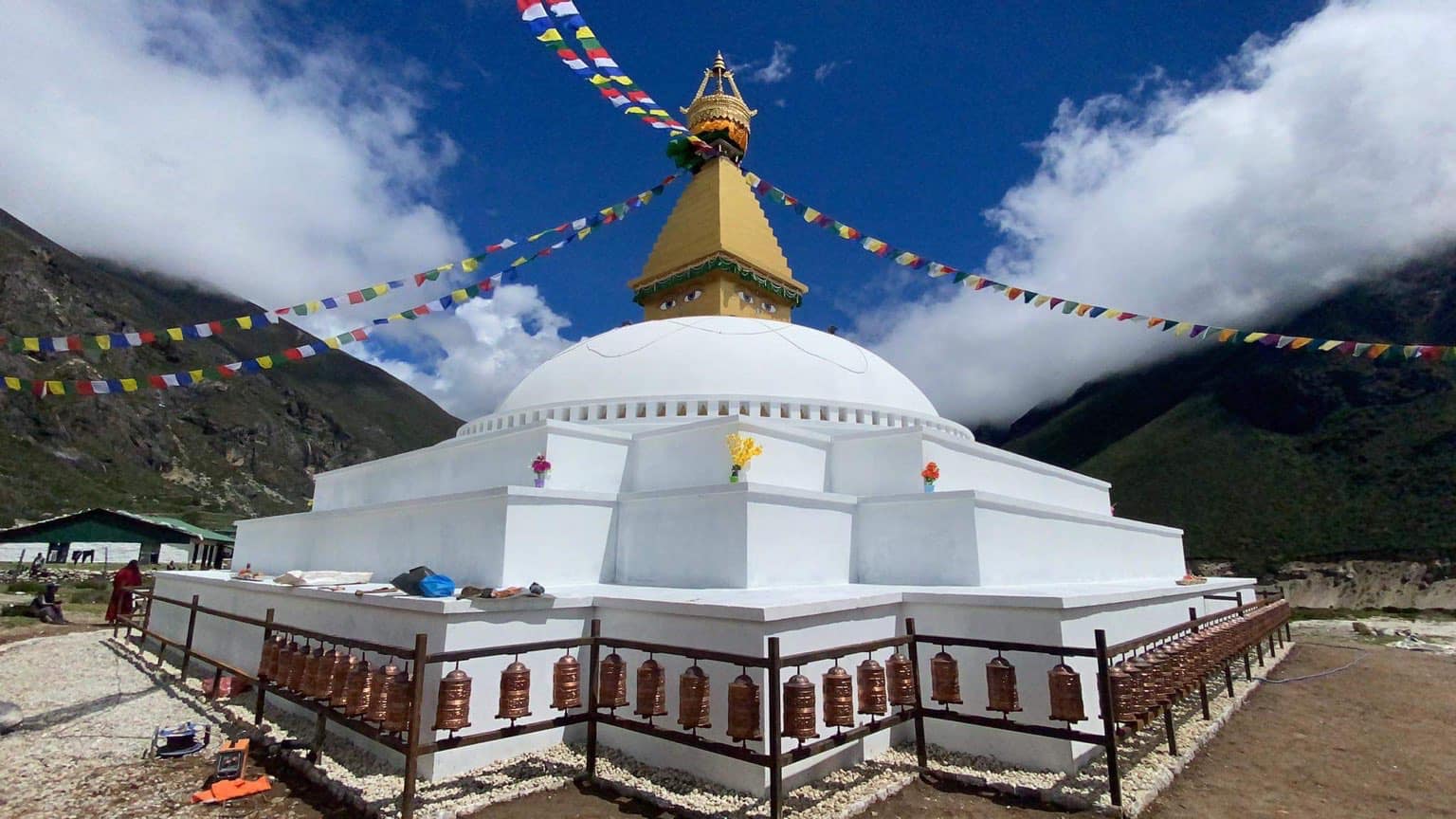 When discussing his Vast Visions for the FPMT organization, Lama Zopa Rinpoche said, "My wish is for FPMT to build many holy objects everywhere, as many as possible. Making it so easy for sentient beings to purify their heavy negative …
Read more »
Offer Your Compassionate Support


The Padmasambhava Project for Peace is a project of FPMT Inc. and is administered by FPMT International Office located in Portland, Oregon, United States. All donations made to this fund are tax-deductible within the United States in accordance with IRS Code article 501(c)(3) to the extent allowed by law.
For larger donations, wire transfers, or check donations, contact FPMT Donor Services.
For questions about the Social Services Fund activities, please contact the Charitable Projects Coordinator.