Resources for the Coronavirus Pandemic
Advice from Lama Zopa Rinpoche | Advice from His Holiness the Dalai Lama |  Latest News 
FPMT Centers | Free Online Learning Opportunities 

FPMT International Office has created this page of resources and advice for individuals and centers worldwide in response to the coronavirus pandemic. This page will be updated regularly.
Advice from Lama Zopa Rinpoche
We've collected Lama Zopa Rinpoche's advice along with the mantras,  prayers, and images he recommends, as well as new video teachings, in one place: "Advice from Lama Zopa Rinpoche for Coronavirus."
This page will be the main locations for Rinpoche's advice for coronavirus practices and teachings. Please check this page regularly as it will be updated with new advice from Rinpoche as we receive it.
Advice from His Holiness the Dalai Lama
His Holiness the Dalai Lama has shared advice on the coronavirus pandemic:
Latest News
Please read the latest news we have published related to the coronavirus.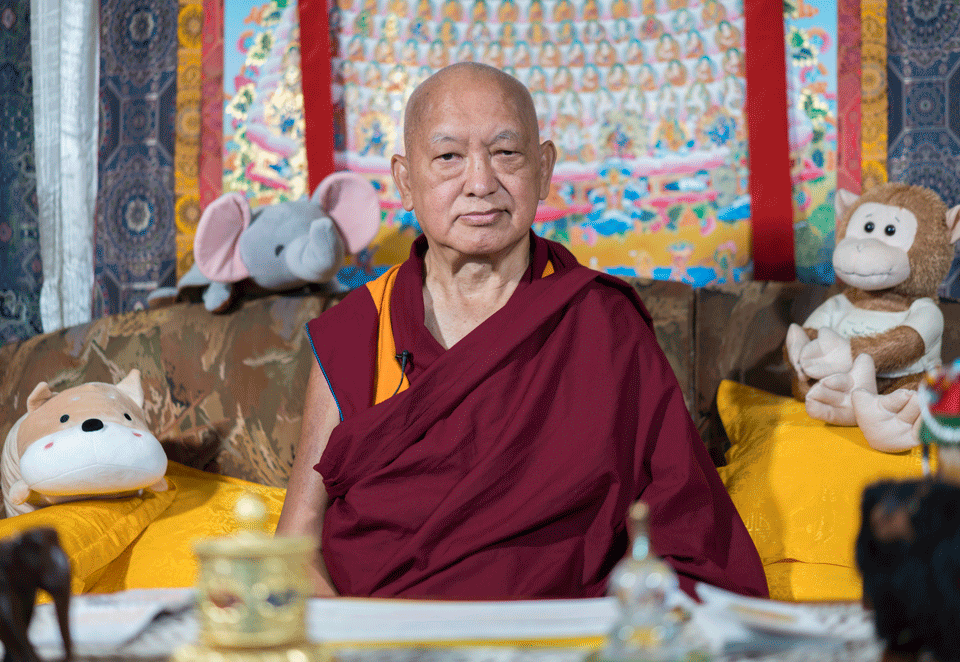 1st April 2020
In a new video from Kopan Monastery in Nepal, Lama Zopa Rinpoche offers an introduction to lojong and tonglen practices. Rinpoche teaches on how to approach these practices in this hour-and-fifteen-minute-long video. Rinpoche emphasizes the importance of the guru and …
FPMT Centers
Many FPMT centers have had to close their doors unexpectedly in order to mitigate risk from the coronavirus. 
Students can check if your local center is open and make sure you are receiving news from your center, including updates about  schedule changes and online teaching opportunities if offered. You can also reach out to see how you may offer assistance and financial support to your center during this challenging time. 
FPMT centers, projects, and services impacted negatively by the coronavirus pandemic can apply for an International Merit Box Project grant to help with unexpected hardships coming into the center due to the pandemic. In order to give centers time to assess any financial hardship, we have extended the deadline for applications for a Merit Box grant to April 20, 2020.
Although the grant money is limited, we hope that we will be able to provide assistance to any center, project, or service hard-hit by this crisis.  We will of course also be accepting the usual applications for funding, but the priority will be for centers, projects, and services in hardship due to the current health crisis. 
Students who wish to support this fund, so it may be of greatest benefit to FPMT centers in need, are welcome to donate any amount to the International Merit Box Project. 
Free Online Learning Opportunities
Dharma practitioners around the world have been advised to isolate themselves from others as much as possible to reduce the spread of the coronavirus. This can be a challenge to those wishing to study without access to their local centers. We are offering several FPMT Online Learning Center programs to any student or center who would like to use them. (Please note: Students who are new to the Online Learning Center will need to create an account. For details, see "Getting Started Guide.")
Free programs offered via the FPMT Online Learning Center:
Additionally, students are welcome to access complete teachings of Lama Zopa Rinpoche via Rinpoche Available Now. Find video of recent and archive teachings from Nepal, Russia, Singapore, Latvia, France, and many other teaching events.
Also visit the Lama Yeshe Wisdom Archive for freely available teachings by Lama Yeshe and Lama Zopa Rinpoche in a variety of digital formats.