Basic Program: Preparatory Study and Practice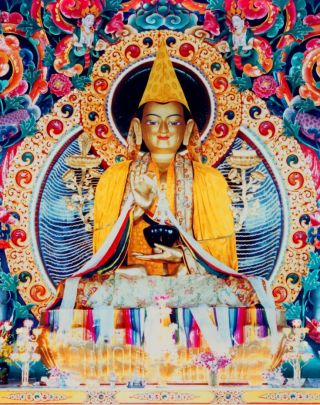 Ensuring Fruitful Basic Program Study and Practice | Requirements for the Tantra Subjects | Preparing for the Tantra Requirements
Ensuring Fruitful Basic Program Study and Practice

Discovering Buddhism is highly recommended as preparatory study and practice for the Basic Program for those without sufficient familiarity with the principles of Buddhist thought and practice as taught in the Tibetan tradition.
Without such preparation, you may find some of the Basic Program subjects difficult to follow and may not benefit as much as you could. Having this kind of preparation will make your Basic Program study and practice more effective and enjoyable.
In addition to explaining general Buddhist concepts, Discovering Buddhism with its regular study, reading assignments, meditation instructions, retreats, and assessment questions will help you get used to a structured approach to learning Dharma. It will also help you establish a regular meditation practice and gain some retreat experience. This ensures that when you take up the Basic Program, you will be able to independently structure your practice and design your own retreats.
Learn more about Discovering Buddhism.
---
Requirements for the Tantra Subjects

In order to study Grounds and Path of Secret Mantra and The Three Basic Bodies: Death, Intermediate State and Rebirth, there are specific requirements pertaining to tantra.
To study these subjects it is necessary to have taken refuge, which implies making a life-long commitment to the Buddhist spiritual path. In addition, at the discretion of the teacher, a highest yoga tantra empowerment may be required.
A highest yoga tantra empowerment is to be received from a fully qualified teacher and entails taking the bodhisattva and tantra vows along with the commitment to do the Six Session Guru Yoga practice on a daily basis.
In order to study Highest Yoga Tantra, refuge, bodhisattva. and tantra vows are life-long commitments that are taken on as part of the specific empowerment related to the deity of the commentary. Such an empowerment is a requirement for receiving a highest yoga tantra commentary.
---
Preparing for the Tantra Requirements
Discovering Buddhism includes an introduction to tantra and explanations of the development of the bodhisattva aspiration and the meaning of refuge.
In the Basic Program itself, Stages of the Path further explains refuge and the bodhisattva aspiration, together with the methods for generating this aspiration, how the vows should be taken, and the commitments involved. Engaging in the Bodhisattva Deeds and Mahayana Mind Training help students develop these commitments and train in keeping them.

For more information on preparatory study and practice, please contact the FPMT Basic Program coordinator.