The Official Homepage for Lama Zopa Rinpoche
About Lama Zopa Rinpoche • News • Schedule • Videos • Photos • Advice • Books
How to Contact • Long Life Prayers • Lama Zopa Rinpoche Bodhichitta Fund • Online Advice Book
Lama Zopa Rinpoche is a Tibetan Buddhist scholar and meditator who for 30 years has overseen the spiritual activities of the  extensive worldwide network of centers, projects and services that form the Foundation for the Preservation of the Mahayana Tradition (FPMT) which he founded with Lama Thubten Yeshe.
Rinpoche's vision is vast and includes the proliferation of many charitable and beneficial activities. Among many projects dear to Rinpoche's heart are the two Maitreya Projects: under Rinpoche's guidance, FPMT plans to build two large statues of the future Buddha, Maitreya, in Bodhgaya and Kushinagar in India; The Sera Je Food Fund, which offers three vegetarian meals a day to all 2,500 monks studying at Sera Je Monastery in south India; Animal Liberation events around the world, at which creatures, big and small, are freed from immediate harm or blessed every year– the total number of animals liberated to date (by Lama Zopa Rinpoche or those inspired by him) is over 200,000,000 and counting! Rinpoche is also utterly dedicated to fulfilling the wishes of His Holiness the Dalai Lama wherever and whenever possible.
Rinpoche's kindness is legendary. More details of Rinpoche's ongoing philanthropy can be followed through the Lama Zopa Rinpoche Bodhichitta Fund News.
Born in the Mount Everest region of Thami in 1946, Rinpoche was recognized soon afterwards by His Holiness Tulshig Rinpoche and five other lamas as the reincarnation of the great yogi Kunsang Yeshe. Rinpoche was taken under the care of FPMT's founder Lama Thubten Yeshe, soon after leaving Tibet, in Buxa Duar, India, in the early 1960's. Rinpoche was with Lama Yeshe until 1984 when Lama Yeshe passed away and Lama Zopa Rinpoche took over as spiritual director of FPMT.
Read more about Lama Zopa Rinpoche…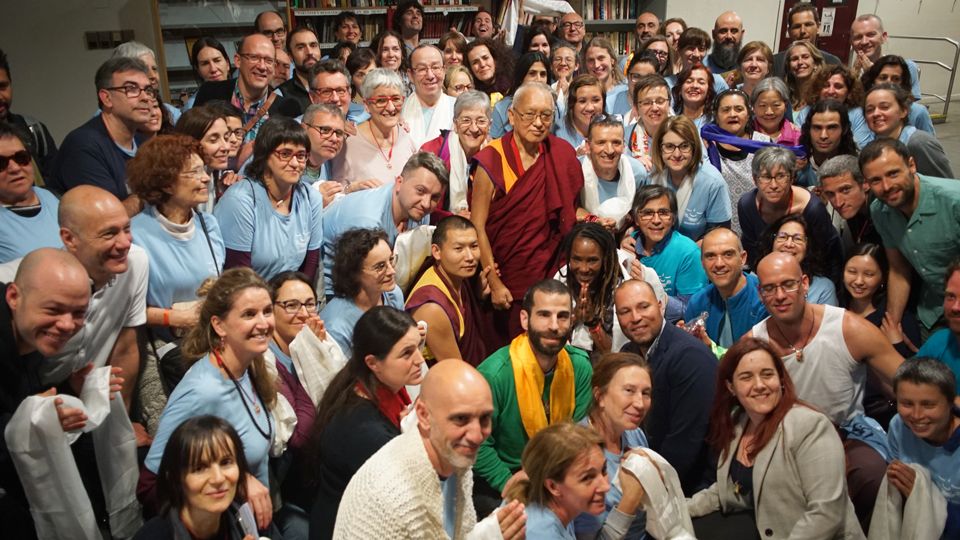 Latest News
5th July 2019
Lama Zopa Rinpoche taught in and traveled to a few FPMT centers in Spain in late April and early May. Kiko Llopis, FPMT Hispana national coordinator, shared this report on Rinpoche's visit. As he had promised in his previous visit …
Further Resources
Contact Info
1632 SE 11th Avenue
Portland, OR 97214-4702 USA
Tel (503) 808-1588 | Fax (503) 232-0557
About FPMT
FPMT is an organization devoted to the transmission of the Mahayana Buddhist tradition and values worldwide through teaching, meditation and community service.
more...
About Buddhism
If you're new to Buddhism, please read our
Buddhism FAQ
. A place to learn about Buddhism in general, FPMT, and our Discovering Buddhism at Home series.