News/Media

*If a menu item has a submenu clicking once will expand the menu clicking twice will open the page.

Study & Practice

*If a menu item has a submenu clicking once will expand the menu clicking twice will open the page.

Projects

*If a menu item has a submenu clicking once will expand the menu clicking twice will open the page.

FPMT

Whether one believes in a religion or not, and whether one believes in rebirth or not, there isn't anyone who doesn't appreciate kindness and compassion.

His Holiness the Dalai Lama

*If a menu item has a submenu clicking once will expand the menu clicking twice will open the page.

Shop

The Foundation Store is FPMT's online shop and features a vast selection of Buddhist study and practice materials written or recommended by our lineage gurus. These items include homestudy programs, prayers and practices in PDF or eBook format, materials for children, and other resources to support practitioners.

Items displayed in the shop are made available for Dharma practice and educational purposes, and never for the purpose of profiting from their sale. Please read FPMT Foundation Store Policy Regarding Dharma Items for more information.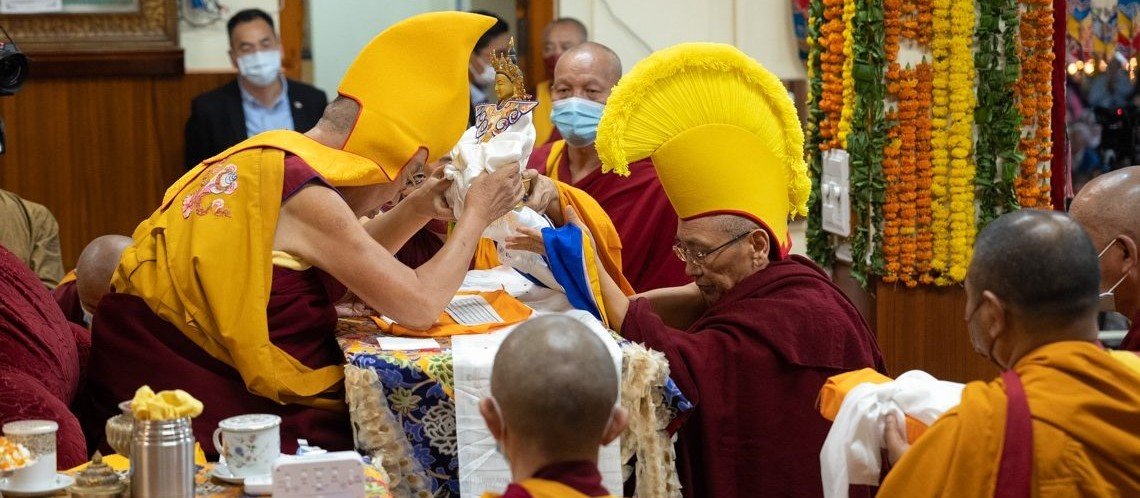 An important priority for the FPMT organization is offering a long life puja every year for our immeasurably precious teacher His Holiness the Dalai Lama. All FPMT centers, projects and services as well as many FPMT students contribute to the annual pujas.
The Purpose of Long Life Pujas
One of the most moving ceremonies in Tibetan Buddhism is the long life puja for a teacher, an elaborate display of devotion towards a spiritual guide comprising heartfelt prayers and praises, and a procession of symbolic offerings. The purpose of the long life puja is for students to purify the mistakes that occur in relation to their teacher, and to create the causes and conditions to continue to receive benefit from that teacher for a very long time.
The essential practice for creating the cause for the guru's long life is harmony between students. Additionally, our devotion to our teachers is best expressed by following their advice, which includes offering service. By maintaining harmony, following our teachers' advice and offering long life pujas, FPMT students are accumulating the merit needed for our precious gurus to stay in the world with us for a long time.
Lama Zopa Rinpoche also mentions regularly that offering long life pujas is a cause for one's own long life.
Lama Zopa Rinpoche offered the following advice in response to requests by students to help them understand how best to prolong the life of the guru, and how to avoid obstacles that can cause him sickness and a shortened life. More….
To understand why a long life puja is essential, we must understand the value of the Guru. He is our guide in this life, the bardo, and future lives. He is immensely important. It is not a case where if we ask him to live he will, and vice-versa, but that to offer such a ceremony purifies our own broken samayas.
Annual Long Life Pujas Offered to His Holiness
Lama Zopa Rinpoche requested the FPMT organization to offer a long life puja to His Holiness the Dalai Lama every year. For more than twenty years FPMT International Office managed this incredibly precious responsibility.  In recent years it hasn't been possible to arrange this annually, and when possible FPMT contributes towards other long life pujas being offered to His Holiness.
In 2023, we received the incredible news that the FPMT organization would be offering a long life puja at the Tsuglhakhang, His Holiness' temple in Namgyal Monastery, Mcleod Ganj, India. This puja took place on the morning of May 24, 2023 
His Holiness the Dalai Lama, Tenzin Gyatso, is the spiritual leader of the Tibetan people and the greatest source of inspiration for the FPMT. Service to His Holiness is one of the primary aims of FPMT. Lama Zopa Rinpoche calls His Holiness "the great treasure of infinite compassion embracing all sentient beings, the sole source of benefit and happiness of all sentient beings, and the sole refuge of all sentient beings." Read more about His Holiness the Dalai Lama.
As the spiritual guide for six million Tibetans, as Lama Zopa Rinpoche's guru, as a recipient of the Noble Peace Prize, and as an ambassador for promoting each individual's universal responsibility toward humankind and the environment, His Holiness serves as a living symbol for world peace.
Find prayers and practices for the long life of His Holiness.
Make an offering to long life pujas for His Holiness the Dalai Lama below.
Photos & Video from Previous Long Life Pujas
For many years, the Long Life Puja Fund also sponsored annual long life pujas for Lama Zopa Rinpoche. Please enjoy videos and photos from past long life pujas offered to Rinpoche.
——— Long Life Puja Fund News & Updates
We have incredibly joyous news to share! On May 24, 2023 Lama Zopa Rinpoche has been given the opportunity to offer a long life puja, on behalf of the entire FPMT organization, to His Holiness the Dalai Lama at Namgyal …
Read more »
---
The Long Life Puja Fund for His Holiness the Dalai Lama is a project of FPMT Inc. All donations made to the fund are tax-deductible within the United States in accordance with IRS Code article 501(C)(3) to the extent allowed by law.
Whatever problem one experiences if one thinks about the benefits of problems and how they are beneficial for ones own life, to develop ones mind in compassion, to develop loving kindness, patience, wisdom, and all the positive qualities for the path to liberation. By thinking of the benefits one develops this precious quality, this most healthy positive way of thinking that brings happiness and that stops you from harming yourself and stops you from harming others.
Lama Zopa Rinpoche