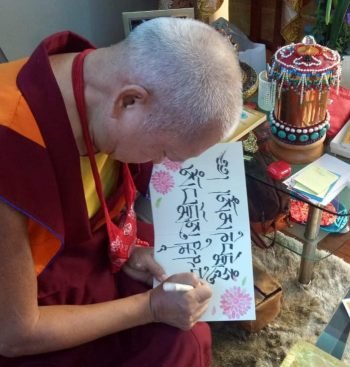 A mantra is a series of syllables, most often in Sanskrit, that is the subject of recitation, meditation, or other spiritual practice. While mantras also exist in the sutras, most are recited in conjunction with the practice of a particular tantric meditational deity, whose qualities they also embody. The term "mantra" means "mind protection," because mantras function to protect the mind from ordinary impure appearances. Thus, in the context of deity yoga, mantras are indispensable as they not only function as a vehicle for a practitioner to develop the attainments of a deity, but also aid in training the mind to view all phenomena, including all sound, as pure.
While mantras are also used in prayer wheels and painted over doorways in order bring as much benefit as possible to all who see, touch, hear, or recite them, prerequisites exist for the recitation of certain Vajrayana mantras. As the lamas often explain, receiving an initiation into a deity's mandala is a prerequisite for engaging in the practice of that specific deity. However, mantras often may be recited without having received an initiation, especially in the case of the mantras of kriya (action) tantra deities, or if one has the permission of one's teacher. Many lamas, out of their infinite kindness, give the oral transmissions (lung) of some common mantras, as reciting mantras on the basis of having received the transmission makes the recitations more powerful. However, an initiation into the mandala of a deity is strictly required in order to practice the self-generation of that deity.
Complete list of mantras in alphabetical order:
A | B | C | D | E | F | G | H | I | J | K | L | M | N | O | P | Q | R | S | T | U | V | W | X | Y | Z
Some mantras are contained in the practice booklets or sadhanas, under "Click here for more."
 Akashagarbha
Amitabha
Amitayus
Amoghapasha – Lotus Pinnacle of Amoghapasha Mantra
Arya Avalokitesvara Simhanada
Chenrezig
Dzambhala
Hayagriva
King of Naga Lords
Kunrig / Vairochana 
Ksitigarbha
Lama Tsongkhapa
Maitreya
Manjushri
Medicine Buddha
Mitrugpa
Namgyalma
Padmasambhava
Prajnaparamita 
Rinchen Tsugtor Chen
Sadzin Gyalpo
Sarvanivaranaviskhambhin
Shakyamuni
Tara
Tathagata Earth-Holder King
White Umbrella (Sitatapatra)
Vairochana / Kunrig
Vajra Armor
Vajrasattva
Vimaloshnisha
A | B | C | D | E | F | G | H | I | J | K | L | M | N | O | P | Q | R | S | T | U | V | W | X | Y | Z
While mantras are of many types and can be used in almost any situation, here are some common ways to use them: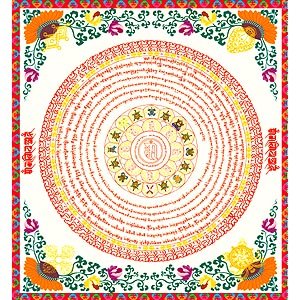 For extensive advice from Lama Zopa Rinpoche about the benefits of reading, writing or reciting particular mantras, or how to engage with mantras to eliminate or reduce potential or ongoing obstacles, please visit the Lama Yeshe Wisdom Archive for Lama Zopa Rinpoche's Online Advice Book and fpmt.org for Advice from Lama Zopa Rinpoche.
---
Visit our Distributing FPMT Education Materials page for information about our distributing, licensing and copyright guidelines.