The Buddhist Monks and Nuns of FPMT
About | International Mahayana Institute | FPMT Monasteries | FPMT Nunneries |
How to Become a Monk or Nun
The Sangha, the community of Buddhist monks and nuns, is the oldest monastic tradition going back to the time of the Buddha, nearly three thousand years ago. By becoming a monk or a nun, one abandons the ways and appearance of a lay person and adopts the appearance and ways of an ordained person by keeping a number of vows.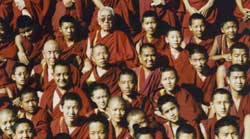 The first community of monks established by Lama Yeshe and Lama Zopa Rinpoche was at Kopan Monastery, Nepal, in 1971 when 25 monks moved down from the Solukhumbu region of Nepal to the small hill overlooking Boudhanath to pioneer a program of study, meditation, and communal living; this was the beginning of the largest community of FPMT monks today.  The core of the Himalayan Sangha remains at Kopan Monastery, the original monastery of the FPMT. Nearby is the Khachoe Ghakyil Nunnery, home to the community of nuns associated with Kopan Monastery. Monks and nuns from the age of seven come from all over Nepal and the Himalayan countries such as Tibet, India, Bhutan, Sikkim, and even Mongolia to attend this Gelugpa monastery, one of the best in Kathmandu valley, to receive a classical monastic education.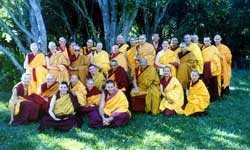 From the early days of the FPMT organization, students have been inspired to dedicate their lives to the practice of the Buddhist path by taking the vows of monks of nuns. In the years since the founding of International Mahayana Institute (IMI) in 1974 at Kopan Monastery, several monastic communities have been established around the world, in Australia, France, India, Italy and Taiwan.  The monks and nuns of IMI continue to serve as teachers, retreat leaders, center directors, spiritual program coordinators, editors and counselors in FPMT centers worldwide.  They tirelessly help bring the benefit of Buddhist teachings to all of us.
The Lama Yeshe Sangha Fund was established to provide support for the IMI Sangha community.
DONATE Donate to the IMI Sangha/Lama Yeshe Sangha Fund
From the bottom of my heart I would like to thank very much all the Sangha who for so many years, not only living in, guarding, your vows, but able to benefit others – doing retreat continuously for many years or doing social service, doing hard work at the center, doing service to sentient beings and teachings of the Buddha, which is service to our guru, His Holiness Dalai Lama.
---
Director Venerable Lobsang Tendar
The International Mahayana Institute (IMI) is the community of monks and nuns of the Foundation for the Preservation of the Mahayana Tradition (FPMT).
IMI Updates
2018
2017
2016
2015
2014
---