Buddhism for the next generation!
By teaching children to have a good heart and be kind to others, they grow up to be very good human beings. With this good heart, they can benefit others so much. Their hearts become good, tolerant, and kind. There is less negative karma in their lives and also less harm to others, which means that other sentient beings receive peace and happiness from your child. Your child can become the source of peace and happiness for all sentient beings, the happiness of this life and of all future lives, as well as liberation from samsara and the highest happiness: enlightenment.
FPMT provides Dharma practice materials, support, children's classes and camps, and a whole secular organization just for youth and young adults! 
Children's Practice Materials and Books
FPMT offers a range of materials for children, including meditation guides, books, plays, and tools for liberating insects from danger!  We also provide books to guide adults in nourishing spiritual development in children.  more…
Dharma Camps for Children and Teens
Some FPMT centers host family Dharma camps and for children and teens. See these center websites for more information:
Many FPMT centers host weekly children's classes. See the FPMT Centers page to find a center near you!
Mandala Magazine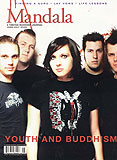 FPMT's journal Mandala magazine offers features on
and interviews with young people engaging with the world,
including young reincarnate lamas. It also offers advice
on how to live in an ecologically sustainable world as part
of our Dharma practice, and practical advice on solving
daily problems, sustaining beneficial relationships, and making
our lives most meaningful.
Statements of Appreciation
I have received the greatest benefit of anything I can imagine from my studies (a peaceful accommodation with my family, job, health, life and something meaningful to do with this life). I cannot imagine any possible way to truly express my thanks for having that now and what I have to look forward to every day.
– Sac, USA
Contact Info
1632 SE 11th Avenue
Portland, OR 97214-4702 USA
Tel (503) 808-1588 | Fax (503) 232-0557
About FPMT
FPMT is an organization devoted to the transmission of the Mahayana Buddhist tradition and values worldwide through teaching, meditation and community service.
more...
About Buddhism
If you're new to Buddhism, please read our
Buddhism FAQ
. A place to learn about Buddhism in general, FPMT, and our Discovering Buddhism at Home series.