The Official Homepage for
Venerable Lama Thubten Yeshe

1935-1984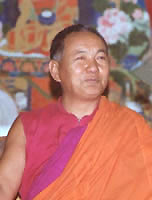 Lama Thubten Yeshe was born in Tibet in 1935. At the age of six, he entered Sera Monastic University in Tibet where he studied until 1959, when as Lama Yeshe himself has said, "In that year the Chinese kindly told us that it was time to leave Tibet and meet the outside world." Lama Thubten Yeshe and Lama Thubten Zopa Rinpoche, together as teacher and disciple since their exile in India, met their first Western students in 1965. By 1971 they settled at Kopan, a small hamlet near Kathmandu in Nepal. In 1974, the Lamas began touring and teaching in the West, which would eventually result in The Foundation for the Preservation of the Mahayana Tradition. Lama Yeshe died in 1984.
If we want to understand how we are ordinarily misled by our false projections and how we break free from their influence, it is helpful to think of the analogy of our dream experiences. When we wake up in the morning, where are all the people we were just dreaming about? Where did they come from? And where did they go? Are they real or not?
Statements of Appreciation
I am so grateful for all the work that you all put in so that I can learn the path. True rejoicing! I am enjoying the path so very much. I can't imagine my life without it. Every moment is filled with dharma – in all aspects of my life. I even have dharma dreams now! Maybe some purification is going on. Such a long way to go but …step by step.
– Julie, Australia
Contact Info
1632 SE 11th Avenue
Portland, OR 97214-4702 USA
Tel (503) 808-1588 | Fax (503) 232-0557
About FPMT
FPMT is an organization devoted to the transmission of the Mahayana Buddhist tradition and values worldwide through teaching, meditation and community service.
more...
About Buddhism
If you're new to Buddhism, please read our
Buddhism FAQ
. A place to learn about Buddhism in general, FPMT, and our Discovering Buddhism at Home series.