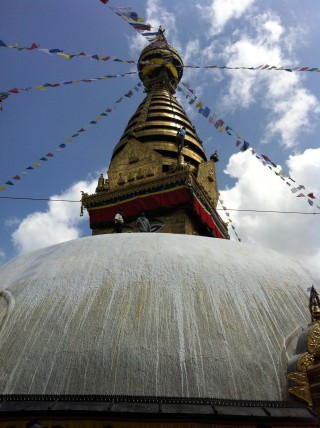 Every month on the full moon the Puja Fund sponsors offerings towards the holy Bouddhanath and Swayambunath Stupas in Nepal. These offerings are made on behalf of the entire FPMT organization and kindly arranged by Kopan Monastery. 
Offerings of white wash, four giant saffron flower petals and the best quality cloth to the umbrellas at the pinnacles are made to the Bouddhanath and Swayambunath stupas in Nepal every month on the full moon and also on Buddha Days when merit is multiplied 100 million times.
Below please enjoy some recent photos taken of these offerings.
All the three realm sentient beings, tormented by the hot, obscuring, disturbing thought.
By offering the umbrella of compassion and bodhichitta,
May the transmigratory beings be satisfied by bliss.
From the root of the virtue of making the umbrella offering,
May myself, the benefactors and disciples achieve the peerless great Dharma King.
You can learn more about the FPMT Puja Fund and  its monthly and yearly activities, as well as the other Charitable Projects of FPMT.
Over and over again our experiences prove that it is our mental outlook that is fundamentally responsible for whether we are successful or unsuccessful, healthy or ill, attractive or ugly, happy or depressed.
Lama Thubten Yeshe
Contact Info
1632 SE 11th Avenue
Portland, OR 97214-4702 USA
Tel (503) 808-1588 | Fax (503) 232-0557
About FPMT
FPMT is an organization devoted to the transmission of the Mahayana Buddhist tradition and values worldwide through teaching, meditation and community service.
more...
About Buddhism
If you're new to Buddhism, please read our
Buddhism FAQ
. A place to learn about Buddhism in general, FPMT, and our Discovering Buddhism at Home series.