His Holiness the Dalai Lama
His Holiness the 14th the Dalai Lama Tenzin Gyatso, is the head of state and spiritual leader of the Tibetan people. He was born Lhamo Dhondrub on 6 July 1935, in a small village called Taktser in northeastern Tibet. Born to a peasant family, His Holiness was recognized at the age of two, in accordance with Tibetan tradition, as the reincarnation of his predecessor the 13th Dalai Lama, and thus an incarnation Avalokitesvara, the Buddha of Compassion.
Cultivating a close, warmhearted feeling for others automatically puts the mind at ease. From the least to the most important event, the affection and respect of others are vital for our happiness.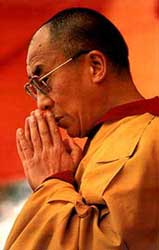 Biography of His Holiness the Dalai Lama, from the introduction of "Oceans of Wisdom"
Books and Teachings by His Holiness the Dalai Lama
Dalai Lama website – includes Schedule information, and Live and Recorded Webcasts of some of His Holiness' Teachings
His Holiness praises Lama Zopa Rinpoche
Long Life Prayer for His Holiness the Fourteenth Dalai Lama
Praise to His Holiness by Lama Zopa Rinpoche
Speeches and Letters by His Holiness the Dalai Lama, including his Nobel Prize acceptance speech and much more.
Statements of Appreciation
I feel like FPMT is taking off like a rocket this year!  I'm so happy for Rinpoche and Lama and everyone who is working, helping, studying or operating any of the centers, study groups, etc.  Amazing.
– Victoria, Aug 2009
Contact Info
1632 SE 11th Avenue
Portland, OR 97214-4702 USA
Tel (503) 808-1588 | Fax (503) 232-0557
About FPMT
FPMT is an organization devoted to the transmission of the Mahayana Buddhist tradition and values worldwide through teaching, meditation and community service.
more...
About Buddhism
If you're new to Buddhism, please read our
Buddhism FAQ
. A place to learn about Buddhism in general, FPMT, and our Discovering Buddhism at Home series.